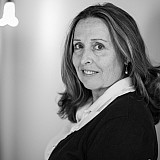 Patrick will run her backup car in qualifying on Saturday.
WATKINS GLEN, N.Y. – With five minutes remaining in Happy Hour for the Cheez-it 355 at the Glen, Danica Patrick destroyed the No. 10 GoDaddy Chevy in Turn 5. The team believes that the wreck was caused by a broken shock and not a left front tire failure as many had originally thought.
Patrick, whose engine failed earlier in the day, was taken to the infield care center at Watkins Glen. She was evaluated and released.
Patrick will qualify with a backup car on Saturday. Her Stewart-Haas Racing team elected to use a new - and third engine.
She was 36th on the speed chart in final practice and completed 18 laps. Her best circuit was 124.545mph. Patrick was 32nd in first practice.
Patrick is currently 28th in the Sprint Cup point standings.