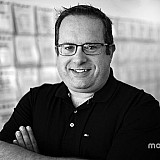 Chase Elliott began his first season in the Sprint Cup Series winning the pole for the Daytona 500 but wrecking out early in the race. This weekend was just as tough, but Elliott was rewarded this time with a strong finish.
Elliott, who took over the driving duties of Hendrick Motorsports' No. 24 Chevrolet this season in place of Jeff Gordon, entered Sunday's race at Atlanta Motor Speedway looking for a much better result than Daytona.
There are just a lot of areas that I need to do better – they may be small things but they go a long way

Chase Elliott
He got it, but it wasn't easy. Elliott said the race tested him in more ways than any previous race he's been a part of.
Over 200 laps of green running
The race began with an uncharacteristic 210-lap green-flag run, which forced teams into multiple pit stops under green-flag conditions. Add to that, the race served as the debut of NASCAR's new low-downforce package – which left drivers having much more difficulty handling their cars.
It was a test of the strongest of veterans, let alone a rookie two races into his first full season.
"I'm wore out – I'm as tired as I've been in a long time racing these cars. It made for a long day," Elliott, 20, said after the race. "The length of the race and the green-flag runs and not getting a break for hundreds of miles, it was longer than anything I've experienced before."
Elliott ran in the Top 10 virtually the entire race and ended up finishing eighth – the first Top 10 of his Cup series career.
"I thought it was going to be really important to stay on the lead lap. And there were a lot of challenges in the race," he said.
"Having a lot of green-flag runs like that, I felt like I gave up a lot of time getting on pit road. There are just a lot of areas that I need to do better – they may be small things but they go a long way."
Impressing the competition
In the garage after the race, Elliott's crew chief, Alan Gustafson, received a slew of congratulations from fellow competitors and rave reviews of his rookie driver.
"Chase did a great job. It's a tough track, a tough place. You were battling guys with new tires and old tires. I was really impressed," Gustafson said.
"We've got some things to clean up and do better but it's a nice start. We had a pit stop a couple from the end that hurt us a little bit and we lost a spot or so on that last restart. It was a good day to build on – last week was a little disappointing with not getting to run many laps."
Rick Hendrick pleased
Elliott's team owner, Rick Hendrick, said he was also impressed his performance on Sunday.
"Chase impressed me today about as much as I've ever seen a young driver drive in a race with a low downforce car," he said. "When he's having to race Kyle Busch and the guys he was racing, Brad (Keselowski), all day long, never make a mistake, just as cool on the radio as any seasoned driver, getting and giving great feedback. I am really excited about that young man in the future."