Busch brothers top first Cup practice at Kansas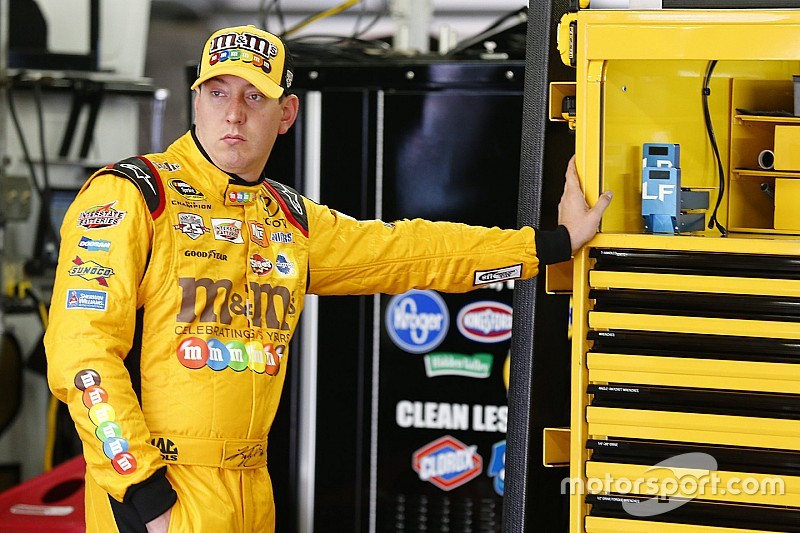 Kyle Busch topped the speed chart in first practice following a short delay at Kansas Speedway on Friday with a lap of 194.595mph.
Kurt Busch was second with a speed of 194.119mph, followed by Carl Edwards (194.098mph), Alex Bowman (194.070mph) and Chase Elliott (194.056mph).
Ricky Stenhouse Jr. was the fastest — and only Ford among the top 10. His lap of 193.903mph was sixth quick with Martin Truex Jr., Jimmie Johnson, Kevin Harvick and Denny Hamlin rounding out the top 10. Chasers Matt Kenseth and Joey Logano posted the 11th and 12th quick lap, respectively.
Only two drivers completed the Best 10 Consecutive Lap Average — Hamlin (186.256mph) and Casey Mears (185.041mph). Mears and Joey Gase's 15 laps completed were the most logged by drivers.
Both Kyle Busch and Kyle Larson were held for 30 minutes into first practice for swerving last weekend following the race at Charlotte Motor Speedway.
"We asked them not to swerve and they swerved so they're in the garage," said Scott Miller, NASCAR senior vice president of competition. "We told them we'll look at our resources after the races and if they swerve, they're sitting."
At the 52-minute mark, Reed Sorenson's engine blew to put the first session under caution.
Busch, who was leading the session at the time with a lap of 194.119mph, had completed eight laps before the yellow.
Only two drivers -- Denny Hamlin and Casey Mears -- ran ten consecutive laps, posting average speeds of 186.256mph and 185.041mph, respectively. 
Be first to get
breaking news
Busch brothers top first Cup practice at Kansas