Get alerts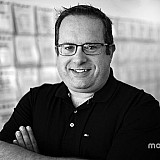 Texas Motor Speedway's repaved track surface is now open for business and it will be less than a month before NASCAR teams find out firsthand how it turned out.
Monster Energy NASCAR Cup Series driver Chris Buescher and IndyCar Series driver Ed Carpenter got a sneak peek and took part in a ceremony Monday to christen the new surface, turning laps in the speedway's pace car.
The project was completed in 2 ½ months and included a complete repave of the track surface and pit road and a re-profiling of Turns 1 and 2, which features a reduction of banking from 20 to 16 degrees.
More room to race
That change added additional racing surface with the width expanding from 60 to 80 feet in that section of the track.
"Turns 1 and 2, it's interesting how wide it is now," Buescher said after taking laps in the pace car. "We have a lot of options. The bottom groove actually is so far down the race track you feel like that corner is going to be quite a bit slower.
"I think that's what made for some really good racing at Kentucky last season was just having the difference in two corners. I think just changing them up and making it hard to get a car to be balanced in both corners when they are that different.
"So far, it looks good, it's smooth and Turns 3 and 4 still have some of the characteristic bumps through it we always enjoy having."
Track president Eddie Gossage said reconfiguring Turns 1 and 2 came from a suggestion by Speedway Motorsports Inc. CEO Marcus Smith to "make it a little flatter."
"That's something we've always wanted to do is reduce the banking here if we could to make the cars slow down a little bit," Gossage said. "He said let's re-profile it, and as it turned out, we were able to lower the banking from 24 to 20 degrees in Turns 1 and 2 and widen the track in the process."
Unknowns for Goodyear
Because of the short turnaround from the November races at the track, there was not time for Goodyear to test and develop a tire specific to the new surface. It will instead rely on information gathered from Kentucky Speedway, which underwent similar changes in the last year.
"We didn't have enough time to test and come out of there with a recommendation and build tires," said Greg Stucker, Goodyear's director of racing. "Texas kept us in the loop right from the start.
"We felt like we have a good starting spot and hence we landed on the Kentucky setup that we took in 2016 on their repave. We feel like that's a good place to start. It's conservative, we understand."
While new tire construction cannot be completed in time for next month's NASCAR events, Stucker said if after the weekend a change was needed, there would be time to come back with a new tire for the track's November's events.