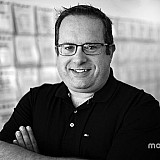 Bruton Smith has spent the summer battling non-Hodgkin's lymphoma.
Speedway Motorsports Inc. executive chairman Bruton Smith is making his first appearance at a race track this weekend since receiving treatment this summer for non-Hodgkin's lymphoma.
Smith, 88, was elected to the NASCAR Hall of Fame in May, which is the last time he attended a race.
"The doctors said I probably needed a bit of rest and I got that. And I probably needed it," Smith said Friday at Bristol (Tenn.) Motor Speedway. "SMI – they can easily do with my absence.
"I hate to miss any of our races, I really do. It's kind of heartbreaking. I really like to be there to see what's going on."
Taking on a lesser role within SMI
Smith stepped down early this year as chief executive officer of SMI, and later increased the voting power of his three sons in the company. His son, Marcus, who already served as president of SMI and Charlotte Motor Speedway, was named SMI CEO.
"A lot of people have asked me about, where's Bruton? How's he feeling? I'm really excited about this weekend because Bristol was a goal (for him to return)," Marcus Smith said.
"The really good news is, through the process, treatment and ups and downs and having Bristol as a goal to be healthy by, we're back here and the last word from the doctor was things have been really good.
"I'm happy that he's back in Bristol and to be able to enjoy it."
Smith grew up in the small Stanly County town of Oakboro, N.C., and founded the first motorsports company to be traded on the New York Stock Exchange.
In announcing Smith's selection to the Hall, NASCAR Chairman Brian France, who is also on the voting panel, said Smith "gave our fans an experience that has transformed the sport."