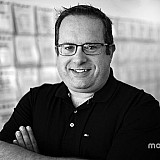 Richard Petty Motorsports on Friday officially named Scott the driver of what is currently its No. 9 team in the NASCAR Sprint Cup Series. Motorsport.com first reported the move earlier this week.
Brian Scott doesn't have a crew chief or a finalized car number, but he isn't wasting any time going to work for Richard Petty Motorsports.
While everything from sponsorship details to crew members has yet to be worked out, RPM will send Scott to Homestead-Miami Speedway next week as the organization's representative at a NASCAR test of the series' new low-downforce aerodynamic package which will be utilized at most tracks in 2016.
Motorsport.com spoke with Scott Friday at RPM's headquarters in Mooresville, N.C., about his move to RPM and the upcoming test.
What do you see as the plusses in RPM's growth?
I think Ford has proven what they're capable of doing in the Sprint Cup Series and them upping with Richard Petty Motorsports just shows the amount of faith that they have in this organization – to be a top tier team competing, leading laps, winning races, competing for championships, and I'm thrilled. I'm thrilled to be a part of an organization that has this manufacturer support and I'm really excited to become part of the Ford family and to work on this relationship and be part of their performance and their legacy on the race track.
Do you think your limited experience in Cup has given you an idea of what to expect?
I certainly think so. I really liked last year being able to compete in races that were in the Chase. Before that, I had done some and the level is really elevated and I always wondered, 'OK competing at the Sprint Cup level and then competing at the Sprint Cup level when the Chase starts, is there a difference and can you compete at that level?'  And I think I showed at Texas and Kansas, running in the top 15 and racing into the top 10 a good portion of the race in those Chase races really affirmed me in my ability and I think it opened the doors.  I think it ultimately led to having talks with Richard Petty Motorsports and being able to put this deal together.
They're putting you right to work on Monday. What are thoughts about the new low downforce package?
I got to drive the 2015 high downforce package. I didn't get to drive the low downforce package, but I'm excited about it. It seems to me that some of the tracks that I excel at are the tracks where you have a lot of tire falloff and you have to manage your car and there's a difference between being good in the short run and being good in the long run, and I think that the low downforce package is going to play into that. I think you're going to find more and more race tracks are going to become more about management and taking care of your equipment, and having to deal with the trade-off of short-run speed and long-run speed.
And how lucky am I? A week after this whole deal comes together I get to go to Homestead and I get to drive a Richard Petty Motorsports car. I get to start working with the team and seeing what type of feel that these cars have and comparing it to my past experiences.
What do you hope to learn from a team perspective next week?
I'm looking forward to driving a Ford.  I think it's no secret that they produce a lot of horsepower and I'm getting excited to feel what that's all about, and then to just feel what these cars handle like. It's a different aero package. It's a different car with different front and rear downforce, and it's a different team and different teams have different setups and different things that they work on. They have different feels in their race car and I'm excited to feel what these cars drive like and start working with this team.