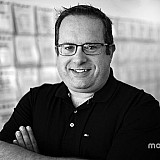 Whatever the exact formula that eventually emerges for future qualifications to compete in NASCAR's premier Sprint Cup Series, NASCAR Chairman Brian France offered two reasons Thursday why it needs to get done...
Maintain the financial health of teams involved and increase the level of competition.
"Anytime we can improve the structure for our team owners, that's a good thing. So if we can improve their business model, we can improve their overall structure, then what's going to happen is new owners will be looking to participate in NASCAR and that's a good thing," France said Thursday during an appearance on SiriusXM NASCAR Radio.
"The other good thing is the level of competition goes up. The more team owners there are, the better we're going to be."
Talk has grown significantly in recent weeks that team owners and NASCAR are coming to terms on a framework that would incorporate adding value to ownership of a team in the Cup series.
Right now, should a Cup team go out of business, the only value retained is in the car, parts and shop inventory – pennies on the dollar compared to the investment in competing in the series.
Following a recent meeting in late September between owners and NASCAR, NASCAR issued a statement in which it said it had presented "framework concepts" for future ownership with a goal toward implementing a new model in time for the 2016 season.
While the general concept seems most similar to franchising, NASCAR has shied away from utilizing that term.
"There is still a lot of work to be done and that will continue over the coming months. We understand there will be speculation and rumors related to the concepts outlined today, but would caution against coming to any conclusions as we work toward final decisions," the statement said.
France on Thursday said the issue was "very important to us."
"We're working alongside all of the team owners to see what's possible and we'll have to go down the road and keep working at it," he said.