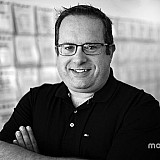 Clint Bowyer has been rumored to be joining Rob Kauffman at Chip Ganassi Racing, but says he's just focused on one thing right now - Making the chase.
Amid a possible change in team ownership and uncertain future in general for Michael Waltrip Racing, driver Clint Bowyer said he is trying to remain focused on the task at end – qualifying for the Chase for the Sprint Cup.
Bowyer made a brief statement following Friday's Cup series practice at Pocono Raceway, but elected to take no questions.
Change on the horizon
"You need to bear with us. There is obviously some change on the horizon. I read the same release you guys did. We got a new sponsor on the car this weekend and it's big deal for us – we've been working on it for a long time," Bowyer said. "We've got a lot of momentum going into this. We're 20 points out of the Chase. We've got to finish this year off strong.
"Like I said, there is a lot of work to be done on the future and we're all working on it. When I have something to tell you guys – y'all know me – I'll tell you."
Bowyer said the only focus now is on "2015 and getting this car in Victory Lane this weekend and in this Chase. We're close and it can happen."
Bowyer was 19th fastest in Friday's practice session.