BK Racing is ready to get "Dumb and Dumber"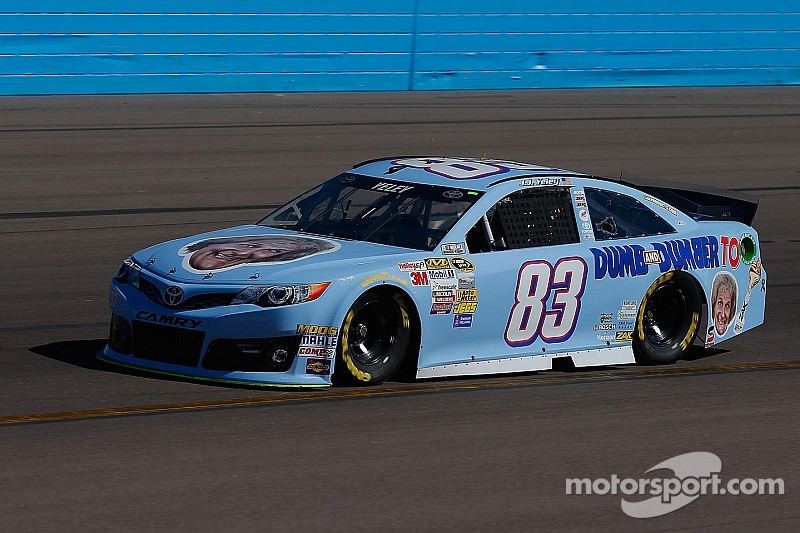 Alex Bowman and J.J. Yeley will carry a new livery at Phoenix this weekend.





AVONDALE, Ariz. – BK Racing will have a different and "Dumber" look to the Nos. 23 and 83 Toyotas this weekend.
BK Racing is partnering with Universal Pictures and Granite Pictures to carry the Dumb and Dumber To livery at Phoenix International Raceway this weekend. Two Arizona drivers Alex Bowman and J.J. Yeley, are promoting the sequel to the popular comedy, which was released in 1994.
Bowman will drive the yellow No. 23 Toyota with the likeness of Jim Carrey's character Lloyd Christmas. Yeley's blue Toyota will have an image of Harry Dunne, portrayed by Jeff Daniels.
"This is a huge deal for BK Racing to promote one of the most popular movies of all-time," said Ron Devine, team owner of BK Racing. "Ever since I found out about this deal coming together many months ago I have been very excited.
"We hope to play a big role in promoting Dumb and Dumber To to NASCAR fans who will be attendance in Phoenix and the millions watching on television."
Bowman, a 21-year-old Tuscon native, qualified 37th for Sunday's Quicken Loans 500. While he doesn't remember the initial release of Dumb and Dumber, Bowman is looking forward to Part "to".
"I was only a little kid when the original movie came out, but I have seen it many times on television," Bowman said. "I like much of the team have been extremely excited for this deal and I hope to give them a great run this weekend in Phoenix."
Be first to get
breaking news
BK Racing is ready to get "Dumb and Dumber"