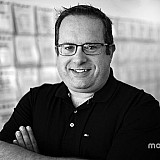 This is the kind of Sprint Cup Series career Austin Dillon had envisioned: He has a pair of top-10 finishes his first three races and he's already matched his top-five finishes from all of 2015.
This kind of performance has been slow coming for the grandson of NASCAR Hall of Fame nominee Richard Childress, but well worth the wait.
"Getting your butt kicked for two years is no fun and I'm used to winning and running up front in the Xfinity and Truck series," Dillon said after his fifth-place finish in Sunday's race at Las Vegas Motor Speedway. "You just have to go to work in the offseason as hard as you can and make it better. I knew it wasn't going to come easy but it hasn't come soon enough for me."
Three strong results
Dillon has yet to finish worse than 11th this season, but Sunday's finish required that he and his No. 3 Richard Childress Racing team overcome several difficult challenges, some of their own making.
A late change from a two-tire to four-tire pit stop while the race was under caution on Lap 98 sent Dillon from the Top 10 into 20th place. While he was attempting to make up the lost ground, Dillon was penalized for speeding on pit road while pitting under caution on Lap 150.
The pit road issues caused some consternation between Dillon, his crew and crew chief, Slugger Labbe, but the group rebounded to get Dillon back in contention for the win late in the race.
"There at the end I was trying to save a little bit of fuel but we were really coming on strong. We killed ourselves today. To come back to fifth – the good Lord was looking out for us and the cautions fell right," Dillon said.
"Win is in the future"
"We've really got to pick it up as a group – me included – on pit road. It was disappointing because it was tough to pass out there and at one point in time we were faster than the leader. But we had a shot there to win and if we were good enough to win, we would have done it. We've got a little bit more work to do but I believe a win is in the future."
That's not something Dillon had been as confident about in his first two fulltime seasons in the Cup series.
Austin has taken the criticism very well because we all want to get better. I criticize my performance every day. 

Crew chief Slugger Labbe
By late last season and paired with Labbe, Dillon and his team began to make strides in performance. So far this season, the No. 3 team has had good speed right off the truck each weekend.
"As a group, I believe we are working together really well. Slugger has done a good job with our race cars. I can't say enough about (our sponsors) for sticking with us the last two years – we've had some ups and downs there," Dillon said.
"I know I can do this stuff. We just need to make our cars fast like we have and we're proving that right now."
Slugger Labbe agrees
"I'm just proud of the speed that we have in our cars. We sucked last year – that's the best way to say it, at times we did. We were one of the cars to beat here yesterday in practice and today in the race," he said.
"As racers, when you get your ass kicked you work hard to get better. Richard and our sponsors have given us the tools we need and this low downforce package kind of fits Austin's driving style."
Labbe said another key to the No. 3 team's improved performance has been an "open and honest" relationship with their driver.
"We've pointed out the things he's done right and the things he's done wrong. And he's only going to get better. You can pat a guy on the (butt) if he does bad, but if you don't show them the good and the bad, you're not going to get better," Labbe said.
"Austin has taken the criticism very well because we all want to get better. I criticize my performance every day. Austin is still a rookie in many ways and still young and as a team, we just can't make mistakes. But look – we had a shot to win the race. That's what we want."