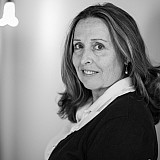 Tire issues plague the No. 48 Chevy at LVMS
LAS VEGAS – Jimmie Johnson's day went from bad to worse on Sunday at Las Vegas Motor Speedway.
After a bead went bad on his right front tire, the No. 48 Chevy bounced off the Turn1 wall on Lap 172.
"Something's wrong with the tire," Johnson forewarned on Lap 90, before relinquishing the point to Kevin Harvick after leading twice for 45 laps.
But 82 laps later, Johnson pounded the wall just up the track from his Hendrick Motorsports teammate Jeff Gordon who ran into the Jeb Burton's No. 26 Toyota.
"Son of a bitch," Jeff Gordon said. "I (freaking) destroyed the nose."
Gordon, who was running 10th at the time of the accident, started from the rear of the field in a backup car following a last minute wreck with Danica Patrick in Happy Hour on Saturday.
While Gordon was able to continue in the race after the No. 24 team repaired the front of the car, the four-time champion suffered from a lack of downforce and dropped through the field.
Johnson also returned to the track but barely lasted 10 laps before wrecking again. After extensive repairs behind the wall, Johnson, who won last weekend at Atlanta Motor Speedway, limped back onto the track in 41st position, 30 laps off the pace.
"Yeah, the first one, they said the bead blew on it," Johnson said. "We don't have any brake temp here, so I don't know what could have caused that. That's kind of a freak deal. The second one, it went soft. So there could have been some damage that caused it or some rub or something like that, and it went soft going into Turn 3 and I hit the wall, unfortunately.
"I'm disappointed. We certainly had an awesome race car. I wish we could have won this KOBALT race in this KOBALT car, but we'll come back next week."