Texas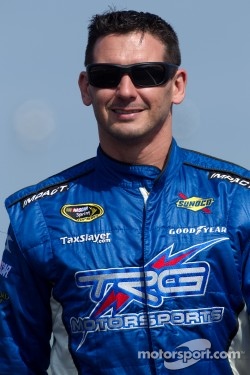 Andy Lally, TRG Motorsports Chevrolet
Lally Qualifies Interstate Moving Services Ford 39th at Texas
TRG Motorsports to run first race with Ford
Denton, TX, (April 8, 2011) - Andy Lally qualified the TRG Motorsports No. 71 Interstate Moving Services Ford Fusion in 39th place for tomorrow evening's running of the NASCAR Sprint Cup Series Samsung (NASCAR) Mobile 500 at Texas Motor Speedway.
The team did a heroic job transitioning to the new Ford Fusion for this week. A solid two days of working more than 15 hours each day was rewarded with Lally putting the No. 71 Interstate Moving Services Ford Fusion on the 22nd row with a time of 29.383 for 500-miler.
"We have a new package we are running for the first time," Lally said. "We have a whole new manufacturer and a new engine builder this weekend. It was awesome hustle by the whole team all week. This team is known for doing things that most people will say can't be done. To change manufacturers in three days by this small team is a huge effort. This was really cool. It is a pleasure and an honor to be a part of this team. I want to thank Kevin and Debra (Buckler) for all of their work behind the scenes to make this happen."
Lally had to qualify on time as the team is tied for 35th in owner points coming into the weekend.
"I had my first go-or-go-home on an oval qualifying session today and it worked out well. The lap was hairy. It was loose and greasy out there tonight. I haven't had to face that situation before. There was so much riding on one lap here, I am really happy."
"I had my first go-or-go-home on an oval qualifying session today and it worked out well.
The start of the race will see similar weather conditions as qualifying.
"We did a little bit of race running yesterday. We focused today on doing qualifying runs. We are going into the race with a little bit of unknown on the race set-up. I am going to talk to Paul (Claprood, crew chief) and see what we need for tomorrow. I want to thank Interstate Moving Services for coming on the car this weekend and I am happy to get them into race and welcome them to the NASCAR world."
Team owner Kevin Buckler is proud of the team's effort this week at the shop and at the track.
"The guys had a lot of work back at the shop. We didn't get our first Ford Fusion until Monday and it was a real push to get it ready for the truck to leave on Wednesday," Buckler said. "We don't have all of the exact correct parts on the car and when we unloaded, Andy and the guys went to work figuring it out. We have good support from Roush and Roush/Yates Engines that has helped to reduce our learning curve a little this weekend. It really comes down to this team just being a bunch of hard racers. We got right down to work in practice and went into qualifying with a set-up that worked for Andy and we are solidly in the field. We have Interstate Moving Services on board this weekend and we are going to give them a good competitive run tomorrow night!"
-source: trg