Bristol 500
NASCAR Rookie, Lally, Prepares for a 500 Mile Fight in Bristol's Bullring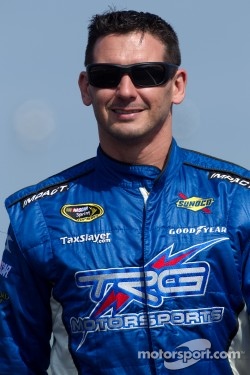 Andy Lally, TRG Motorsports Chevrolet
Mooresville, NC (March 15, 2011) --The No. 71 Eco-Fuel Saver Chevrolet heads to Thunder Valley this weekend for the Jeff Byrd 500 presented by Food City. Andy Lally is looking to improve upon last week's 32nd place finish.
Lally, who currently leads NASCAR's rookie standings, is excited to make his first start at Bristol.
Lally said, "We had some unfortunate luck to start our season, but I can feel the momentum shifting in the right direction. We have had some good runs, but haven't been able to put the finishes together yet. The biggest thing for me, as a rookie, is continuing to adapt to these cars and this style of racing. Bristol is a track that is unlike any place I've ever raced before. While most of the other cup drivers grew up running short ovals just like this, I come from a road racing background. Most of the tracks we go to are new to me. I'm learning every day and every race."
Many drivers cite Bristol as the most physically-demanding oval the series races on. While automobile racing is his passion, Lally also enjoys competing in mountain bike races as well as training in mixed martial arts. That background might aid him as he heads to the track often referred to as a "bullring."
Qualifying will be critical at the ½ mile concrete oval. In the past 100 Sprint Cup Series races at the track, the winner has started in the top-10 80 times.
The No. 71 team had a solid run in this event last year, as it completed all 500 laps, en route to a 21st place finish.
Team owner Kevin Buckler said, "This is a track where we've run very well in the past. We're working hard every day to improve our race team, and our short track program is part of that. I'm impressed with what Andy has been able to bring to our program this year and how he has been able to handle the adversity that has come his way early on. It's a lot to deal with and he's done a great job. We're looking for a solid finish at Bristol to give us some momentum heading into this long stretch of the season coming up."
While TRG Motorsports' Sprint Cup Series team takes to Bristol, TRG's highly successful sports car program will be looking for a win in this weekend's 12 Hours of Sebring. Kevin Buckler and The Racer's Group will be fielding a total of four entries at Sebring over the weekend.
-source: trg