Talladega
Lally Set for First Talladega Start in Interstate Moving Services Ford
Mooresville, NC, (April 13, 2011) - Andy Lally is ready to tackle his first race at the famed Talladega speedway with the TRG Motorsports No. 71 Interstate Moving Services Ford Fusion. The rookie will have to qualify on time for the NASCAR Sprint Cup Series Aaron's 499 to be run at Talladega Superspeedway on Sunday, April 17.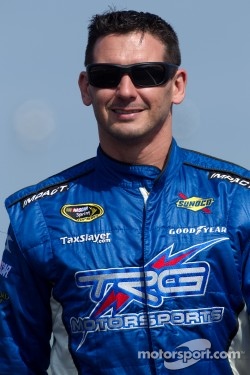 Andy Lally, TRG Motorsports Chevrolet
Lally will, once again, have to qualify on time for this weekend's race. The Northport, New York native made his first NASCAR Sprint Cup superspeedway start at Daytona in January. Lally has two starts in the Camping World Truck Series at Talladega. The team switched from Chevrolet to Ford at Texas and will have their work cut-out for them to get the car up to speed and in the show this weekend. The speedway car was delivered to the shop on Monday morning. The TRG Motorsports crew, headed by new crew chief Doug Richert, is working feverishly to get the Interstate Moving Services Ford Fusion ready for Talladega.
"I have raced a truck at Talladega twice now and it was a blast," Lally said. "Talladega has always been one of the most exciting races to watch, but after racing it twice in a truck I understand why a lot of the drivers are so stressed about it and think it's crazy. Your heart is in your mouth most of the race and even though TV does a decent job of getting the coverage, it's impossible to see all the little things that happen during the race that almost turn into big wrecks. It's the easiest track to drive when you are all by yourself, but one of the most stressful places to drive in the pack.
I think it will be exactly like Daytona with the exception that we will have a wider track and a little more room to get the two car trains by each other. The transitions at Talladega are pretty smooth, so I don't think we will see so many incidents of cars turning each other like we did at Daytona. I think we will have longer green flag runs for sure and the main focus of teams will be how much you can cool your car to be able to stay in line and push.
I'm not sure what we will do yet as far as strategy goes. I think the smartest thing to do is get four cars that can work together and hang back from the pack. Two cars might get dropped, but four can work together pretty well and not get lapped. I can't wait to get the Interstate Moving Services Ford Fusion on the track Friday."
We need a flat-out performance from everyone, like we had last week.
Team owner Kevin Buckler has his team flat-out with the transition to the Ford package and a big race this weekend.
"We need a flat-out performance from everyone, like we had last week," Buckler said. "Everyone is putting in the hours to complete the transition to the Ford package. We need to get into this race this weekend and then the weekend off should give us the opportunity to complete the transition completely to the new equipment. That is asking a lot from everyone, but the people we have can make it happen. Andy is doing a great job for a rookie. We are asking a lot of him, but he responds the best when under pressure. We also have Doug Richert on the pit box now and we will be leaning on his experience going forward this year. This a very important weekend for us and we are really glad to have our partners at Interstate Moving Services back on board."
-source: trg