Pocono Raceway
Lally and TRG Motorsports Ready for The Tricky Triangle
Andy Lally is preparing to take the #71 TRG Motorsports Ford to Pocono International Raceway this weekend for the running of the 5 Hour Energy 500.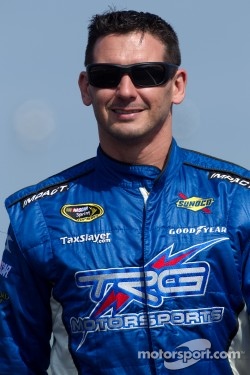 Andy Lally, TRG Motorsports Chevrolet
Lally is looking forward to race in his home region. "From all the footage I have seen of Pocono over the years it certainly seems Ike it going to be a challenging track. In fact, I think it's going to be my biggest challenge since Bristol. Some people look at this like a road course style oval but I just see it as an oval with three totally different turns. Turn one doesn't have a lot of banking but is very bumpy and the normal line seems to be altered because of those bumps, on top of that you have huge entry speed here. The tunnel turn kink is also something we don't usually see on the schedule and then turn three looks like a little bit of the Milwaukee oval. It will be a big challenge for sure and certainly a cool opportunity. Kevin, Doug and the crew at the shop have been working late this week once again to try and give me the best the car they can. I will be working just as hard to make all that effort pay off. This is also a neat race for me because Pocono International Raceway is only 2 hours from where I grew up in NY and I will have family coming out as well as some friends from the FDNY to root us on!"
Crew chief Doug Richert commented on the challenge of setting up a car at the track that is nicknamed the Tricky Triangle. "Pocono is always a challenging track when it comes to setting up the car. The track has long straightaways and three very distinct corners. You almost have to pick and choose where you want your strong spots to be here. Being fast in one corner can cost you time in another, so the hardest part is building a balanced setup that will perform well overall. "
Team owner Kevin Buckler "Kansas was a pretty solid race for our team. We had no miscues of any kind and are getting our Ford Fusions dialed in. We had a good test at Road Atlanta this week and I think that overall, our team is becoming more and more competitive each week."
The team also participated in testing this weekend in preparation for the upcoming race at Infineon Raceway in Sonoma, California. "We had a really good test at Road Atlanta and learned some things that should help our setup for Sonoma" said driver Andy Lally.
-source: trg motorsports