Pocono Raceway
Lally to Start 24th in TRG Motorsports Ford Fusion at Pocono
Rookie posts best qualifying time on oval in first Pocono run
Andy Lally will start the No. 71 TRG Motorsports Ford Fusion from the 12th row for tomorrow's running of the NASCAR Sprint Cup Series Pocono 500 at Pocono Raceway.
Lally, a first time visitor to the track located in the heart of honeymoon country, was able to learn the track quickly and get his No. 71 TRG Motorsports Ford Fusion up to speed. The rookie turned in a lap of 53.138 and 169 mph at the track known as the Tricky Triangle. After working through practice with the team, Lally and Doug Richert, crew chief, came upon the set-up that allowed the Northport, New York native to post his best qualifying effort to date on an oval.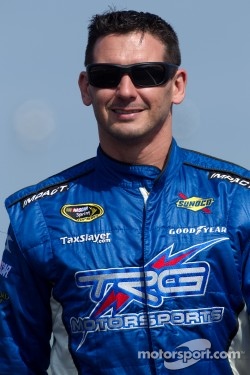 Andy Lally, TRG Motorsports Chevrolet
"We had a little issue in practice, that we didn't find until halfway into the second session," Lally said. "We had a really loose car that we were making tighter and tighter and then we found the issue and then we were super tight. We weren't able to show our speed until the end of practice when I went out on old tires and it was decent, but not super. We knew that when we put new tires on it for qualifying we would be good. Doug made some good calls on set-up changes for qualifying. The car had really good balance for the run.
In the race I think I will be shifting into all three corners. In qualifying I just ran fourth gear through One and Two and then down to third in Three. Even though you are shifting, this is still an oval, we run an oval set-up on the car. I thought coming in here that this place was going to be as tough to learn as Bristol. The car still has the oval feel - it is tricky. I am going to be looking to make up ground in our points chase and see how the race plays out at the end."
Kevin Buckler, team owner, sees tremendous progress in driver and the team.
"This is fantastic for everyone at TRG Motorsports and Andy," Buckler said. "The team did a great job in qualifying this afternoon. It is unbelievable that Andy took his first laps here and the team worked really hard on getting the car right and our rookie delivered in qualifying. We are running an unsponsored car this weekend and we are hopefully getting closer to that elusive sponsor partner. Our performance is improving every weekend and we are the "Best Buy" of the single car teams. We out qualified some big names and some big teams today. With this qualifying effort we are starting to show what we are made of with this team. We have Michigan next weekend, which is always tough and then we have our first road course race of the season at Infineon - our home track. We need to carry some momentum forward and then make the turn back to Daytona and really start the schedule again. We are ready!"
-source: trg motorsports