Kansas Speedway
Lally Drives TRG Motorsports Ford Fusion to 31st at Kansas
Andy Lally drove No. 71 TRG Motorsports Ford Fusion to a 31st place in today's running of the NASCAR Sprint Cup Series STP 400 at Kansas Speedway.
Lally, who started 39th, was able to move consistently forward yesterday as the heat and race strategy took its toll on the field. In the end the race came down to fuel strategy. For Lally and TRG Motorsports it was a great points day, as Lally finished better than many of the competitors that surround the team in the points standings.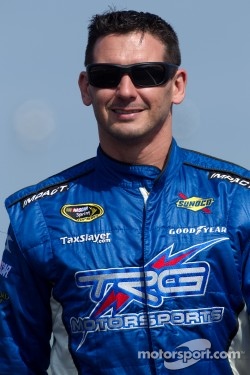 Andy Lally, TRG Motorsports Chevrolet
"It was one of the most uneventful Cup races I have been a part of so far," Lally said. "I had the idea going into the race that after looking at how the race has been run over the past couple of years that it would be uneventful. When you have a track that opens up to several racing lines, you don't get the impatience behind you from other guys, and thus you don't get the wrecks. As a result you get long green flag runs, so you have to have a good car. We did have a decent car. I probably had one of the best cars that I have taken the green flag with this year. Doug (Richert, crew chief) and the team did a good job adjusting on it during the race. Kevin (Buckler, team owner) and Doug made some really good calls on strategy all day. It was a good race for us. We shoot for better than a 31st place, but not a single car crashed out of the race. It was a small step forward. I read once that lots of small steps make for great distances over time."
Team owner, Kevin Buckler had his team ready for a good run.
"We had a very good run today," Buckler said. "It was a good team effort all the way around. Doug and I were working the strategy together and Andy was doing the job behind the wheel. Not a lot of crazy stuff going on out on the track, so we focused on making small adjustments on the car to have it solid over long runs, which we did. The finish will help with our owner points standing. We were also able to introduce the Special Operations Warrior Foundation and the Children's Tumor Foundation to the NASCAR fan base and that made the weekend complete."
The NASCAR Sprint Cup Series travels to Pocono Raceway for the Pocono 500 to be run on Sunday, June 12.
-source: trg motorsports