Marcos Ambrose opened the 2012 Sprint Cup season hoping to take the next big step in his quest to become one of the sport's top contenders.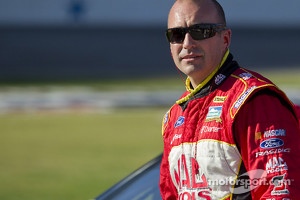 Marcos Ambrose, Richard Petty Motorsports Ford
And he continues to move along that path.
Ambrose became one of only 14 drivers to score a Sprint Cup victory this season when he rolled into victory lane in mid-August at Watkins Glen International in New York.
After starting the season with 10 straight double-digit finishes, the Watkins Glen win and a pair of follow-up fifth-place runs at Michigan and Bristol lifted Ambrose to 16th in the Cup point standings.
With two races left in the season, he stands 18th, and his team, now under the guidance of new crew chief Drew Blickensderfer, is working toward strengthening its foundation for the season to come.
"We thought (in the preseason) we were a team good enough to be in the top 15, so we're a little off where we want to be," Ambrose said. "We've had a lot of change the last month and a half or so, which has been a challenge for us as far as results and performance, but we've been a good team.
"We're a mid-field team and better. We have room to improve. We have the capability to make the Chase in 2013."
Richard Petty Motorsports and Ford Racing recently announced that RPM will remain under the Ford umbrella in 2013, giving Ambrose and his colleagues on the No. 9 team the go-ahead to put strong plans in play for the new season. Some of the spadework will occur over the final two weeks of this year – and during the off-season – as Ambrose and Blickensderfer work together to lift the operation.
Blickensderfer formerly worked at Roush Fenway Racing, which supplies chassis and technical support (and, through Roush Yates Engines, firepower) for RPM, so the communication process between the two organizations should be significantly improved.
"We just have to eliminate mistakes and maintain our level of performance," Ambrose said. "We've had good speed at times and good runs. We just have to keep that over the course of a year, not just a few races."
Through 34 races, Ambrose has three top fives and eight top 10s, numbers that must be improved significantly if the team hopes to be a serious contender for a Chase spot next year. The Sprint Cup point system loves consistency, and bundles of top-10 finishes usually lead to good things.
"We've got all the ingredients we need to be a contender," Ambrose said. "We're not a juggernaut team. We're not a Hendrick. We're not making our own stuff.
"But we have a great association with Ford Racing and Roush Yates Engines. That helps us be a team that has the ingredients to compete. We rely on our partners, and we have great partners. There's no reason we can't go out there and be a contender week in and week out."
Ambrose said racing against bigger teams with more personnel isn't frustrating.
"We know what we've got and know what we can do with it," he said. "We just have to maximize our own abilities. We can't be looking at other teams and feeling bad or complaining. We have good opportunities with the team we have – good cars, good team, good shop, good partners."
Ford Racing