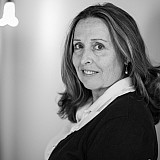 AJ Allmendinger is having fun again.
Running in the top 10 for 500 laps and passing Jimmie Johnson, Kevin Harvick and Brad Keselowski on the way to a podium finish will do that for a driver of a single-car operation.
On Sunday, Allmedinger wheeled the No. 47 JTG Daugherty Chevrolet to a second-place finish — his first top-five since his victory at Watkins Glen in August 2014.
The whole team here at the racetrack, at the shop, they've all stepped up

A.J. Allmendinger
"Man, I hope the fans enjoyed that," Allmendinger said. "It was a lot of fun. I passed Jimmie Johnson like five times at Martinsville. That is pretty fricking cool."
Change for the better
For Allmedinger, who matched a career-best second-place finish at Martinsville on Sunday, a lot has changed since he last pulled off the feat while driving for Team Penske in 2012. But a lot has changed for the 34-year-old Los Gatos, Calif. native since taking over driving duties in the No. 47 Toyota at Michigan in 2013 as well.
In 2014, JTGD switched manufacturers from Toyota to Chevy and joined a technical alliance with Richard Childress Racing. In the off-season, JTGD made a sizable shift in management by hiring former RCR (and JTG) crew chief Ernie Cope as general manager and former Ganassi Racing team engineer Randall Burnett to be Allmendinger's new crew chief. The threesome clicked almost immediately.
Allmendinger feels Burnett has acclimated to his new role flawlessly. But he's quick to acknowledge his former crew chief and engineers contribution to the team.
"Well, Brian Burns and Tony Palmer, my crew chief and race engineer last year, they were just at a bit of a disadvantage," Allmendinger said. "We didn't have the personnel to have the cars where we needed them when they left the race shop exactly where they needed to be, getting put into the hauler and getting brought to the racetrack.  
"Ernie is really good. He's had a relationship with RCR working there, and obviously when he worked with Kevin Harvick and they had the truck and Busch teams at the time. So he's been really good about making sure we got what we need for the race cars and built the way they need to be to the specs that he wants them and things like that, and Randall, for a first‑year crew chief, you wouldn't really know it. He's great on the box.  He calms me, which shockingly I don't know if you guys know that, I probably need that sometimes. It doesn't seem like he's only done this for six races.  
"They've brought a lot, but it's not just about those guys.  Brian Burns and Tony Palmer, they stepped back into new roles and instead of feeling like they were downsized or demoted they've stepped up and embraced it."
Stepping up their game
Before the off-week, Allmendinger posted his first top 10 of the season at Auto Club Speedway — his first in 20 starts. On Sunday, Allmedinger led the Chevy contingent. The two top 10 finishes elevated the No. 47 team from 19th in the standings to 12th.
"The whole team here at the racetrack, at the shop, they've all stepped up," Allmendinger said.  "Pit crews the last two weeks have really stepped up, and there's a good vibe around the team.  It's fun to be at the race shop.  
"It's fun to be at the racetrack with the guys.  Everybody seems a little bit more energetic.  It's a big deal, and Tad (team owner Geschickter) is working Jodi (Geschickter) is working hard to keep putting (sponsor) stickers on those race cars.  That's important when they do that to try to give them in return good runs."