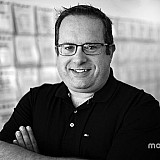 Alex Bowman's run as a substitute driver for Hendrick Motorsports may be winding down, but he's turning heads before it comes to an end.
In what will be his 80th career start in the Sprint Cup Series, Bowman will start Sunday's Can-Am 500 at Phoenix International Raceway from the pole – the first of his career.
Bowman, from Tuscon, Ariz., turned the fastest lap in the final five-minute session of knockout qualifying, at 140.521 mph. He topped Kyle Larson (140.263 mph) by less than three-tenths of a second.
"It's amazing. We weren't really that strong in qualifying trim in practice – I'm not sure where that came from actually," a somewhat stunned Bowman said after qualifying.
"It helps to have fast race cars. We haven't had an ounce of luck. I think the sun going down probably helped us a little bit. Everybody on this team does an amazing job."
Bowman has been the primary fill-in driver in Hendrick Motorsports' No. 88 Chevrolet usually driven by Dale Earnhardt Jr., who continues to recover from a concussion suffered in a race in June.
Larson on the outside of the front row
Larson said he may have left something on the track.
"I probably overdrove in Turn 3 and didn't get wide open quick enough in Turn 4," he said. "The owner (Chip Ganassi) is probably going to come over and here and say we should have won the pole. We'd like to get a pole but second is not too bad."
Chase Elliott will line up third, Joey Logano fourth and Denny Hamlin fifth.
The remainder of the Top 12: Kevin Harvick, Austin Dillon, Ryan Blaney, Jamie McMurray, Matt Kenseth, Carl Edwards and Kurt Busch.
Round 2
Logano rocketed to the top of the speed chart in the second 10-minute session, barely edging Dillon, who was required to make a second attempt on his fast lap.
Logano ended up with an average speed of 140.378 mph.
When Dillon initially headed out to the track, he was called for a blend-line violation and was forced to return to pit road and begin again. He remained fast, posting an average lap speed at 139.914 mph.
Larson was third-fastest, Blaney was fourth and Elliott fifth. Also advancing to the final round were Hamlin, Bowman, Kurt Busch, Harvick, McMurray, Kenseth and Edwards.
Two of the eight drivers still competing for the championship failed to advance to Round 3. Jimmie Johnson will line up 17th and Kyle Busch will start 19th.
Busch complained his No. 18 Toyota was "super tight" throughout the session.
"I definitely wanted to qualify better, it just wasn't in the car today," Johnson said. "Still plenty of pressure, even though we're locked in" the Championship 4.
Round 1
Harvick showed his muscle early, posting the fastest speed in the first 20-minute session of knockout qualifying with about six minutes remaining.
Harvick's topped the first round with an average lap speed of 139.746 mph, just edging Dillon (139.719 mph).
"We want one spot better," Dillon said. "We'll be right there if we do what we just did. It'll get faster (as the sun goes down) and hopefully we've made the right adjustments for it."
Larson was third-fastest, Bowman fourth and Blaney was fifth-fastest.
Martin Truex Jr., who slammed the wall at the end of Friday's practice, wasn't able to get his No. 78 Toyota cleared through inspection in time to post a speed in the first round. Because of that, he will line up 40th in Sunday's race.
Among those who failed to advance out of the first round were Tony Stewart, Aric Almirola, Clint Bowyer and David Ragan.