Spanish GP
Edwards and Crutchlow happy after dramatic qualifying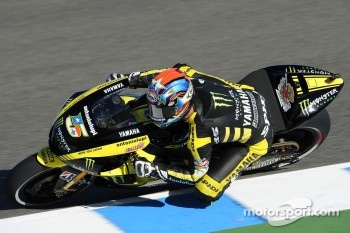 Colin Edwards, Monster Yamaha Tech 3
Monster Yamaha Tech 3 Team riders Colin Edwards and Cal Crutchlow will start tomorrow's Spanish MotoGP race from eighth and ninth position on the grid respectively after an incident-packed qualifying session at the Jerez circuit.
American Edwards will start in the middle of the third row having taken full advantage of a revised front-end set-up to post a best time of 1.39.895. Edwards opted to run a harder front fork spring this afternoon having made several modifications to improve braking and cornering feedback with his YZR-M1 machine. He was less than 0.2s away from claiming a deserved second row position when he became one of numerous crashers in a dramatic session that took place in front of a large Saturday crowd at the Jerez track.
Pushing hard to try and secure a top six grid position ahead of tomorrow's 27-lap race, Edwards lost the front-end of his YZR-M1 at the slow speed second corner, but was able to remount his machine and ride back to the pits.
Crutchlow produced another outstanding performance to secure his second successive top ten qualifying result in his rookie MotoGP campaign. Crutchlow was in stunning form in this morning's third and final practice session, the British rider finishing seventh fastest after setting a quicker time than team-mate Edwards and factory Yamaha rider Ben Spies.
And he carried that speed into this afternoon's qualifying session, the 2009 World Supersport champion clocking a best lap of 1.40.019 to finish just 0.124s behind Edwards in ninth. Set-up alterations made significant improvements to the front-end feeling of Crutchlow's YZR-M1 machine. Despite having less than four hours of track time at Jerez, Crutchlow demonstrated what a fast learner he is by beating a host of established MotoGP stars with vast experience of the challenging Andalucía venue.
Colin Edwards - 8th
I'm never happy with eighth position but I honestly couldn't have put in any extra effort than what I did. It is hard to be disappointed when I know I rode as hard as I could do. It was obvious how hard I was pushing when I crashed late in the session. But to even get close to the second row now with this level of competition, you've got to take a few risks. I'd just done my fastest lap of the session when I got into the second corner and lost the front. I wanted to push a bit more to try and get onto the second row but obviously bit off more than I could chew and down I went. I felt good in the session because we modified the front forks by running a hard spring and it gave me the extra feedback I was looking for. On the hard rear tyre that we'll race on, I'm pretty happy because I was able to lap consistently in the low 40s. We didn't make a big step with the softer tyre so that shows we've got a decent race set-up and although it will be a tough race, I'm really looking forward to it.
Cal Crutchlow - 9th
I'm really happy considering I don't know this track at all and there are a lot of talented riders behind me on the grid again. This morning I was seventh and I've qualified ninth, so I'm obviously making big progress. That is pleasing for me and for my Monster Yamaha Tech 3 Team crew, who have been working really hard to help me to adjust quickly to riding a MotoGP bike. My ideal time was sixth, so I can't complain about that given my lack of experience on this track. I actually felt more comfortable with the harder tyre than I did with the soft, so that bodes well for the race tomorrow. We definitely made a big improvement with the front-end of the bike and I felt much more comfortable today. But we sacrificed a bit of rear grip, so we've got to try and find a balance that gives me the grip I've got now with the front, but improves the rear feeling too. My target for the race will be to finish in the top ten. Looking at the lap times I'm similar to Hayden and Aoyama again like I was in Qatar. I was a little bit behind them at the end of the race in Qatar, so hopefully I can make that step and give them a closer battle here. My confidence is growing and I'm optimistic I can get a good result tomorrow.
-source: tech 3