Thanks to Ducati, Michele Pirro is the sub rider for the injured Ben Spies at the French Grand Prix in Le Mans.
Today the Ignite Pramac Racing Team completed day two at the French GP, which included two free-practice sessions followed by the new-format qualifying system.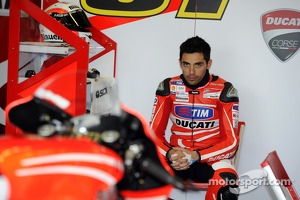 Michele Pirro, Ducati Team
In FP3, substitute rider Michele Pirro posted a time of 1:35.592, which was three-tenths of a second slower than his best from yesterday; his fifteenth position meant he had to take part in the Q1 session, in which his best time was 1:35.228.
The Italian made steady progress from session to session, but he still lacked the confidence needed to improve further. Changing from his familiar development bike to the team's Desmosedici GP13 race machine was certainly a disadvantage, but the team, together with Michele, is working hard to find a better setting in the absence of Ben Spies.
Pirro will start tomorrow's race from the fourteenth position on the grid.
Michele Pirro – Ignite Pramac Racing Team
"This bike is new for me, and I still need to gain confidence. We improve in each session, but I'm still not where I'd like to be. I was hurt by a lack of feeling, so maybe I need more kilometres, a few more days. We tried to change something in every session, but I'm not satisfied. We didn't achieve what we'd hoped for, and I'm still having a hard time adapting to the bike. I don't know the limits, so I can't ride as I like, and since I don't feel good on the bike, that's all I could do for now. I tried a setting that was similar to the one I'm used to, but it didn't work. These bikes are truly challenging from a physical point of view, so I can understand why Ben, with his shoulder problem, wasn't ready to ride. I'll try to do my best to provide useful feedback to contribute to the development, and we'll see if we can get a good result. Seeing Dovizioso get the third spot on the grid makes me very happy, and it obviously gives me more confidence. We'll keep working hard for tomorrow, and we hope to do better."
Ignite Pramac Racing Team