Gordon Hatch, MotoGP Correspondent
Spaniard dominates from start to finish to extend championship lead
Jorge Lorenzo took an emphatic victory at the Grand Premio d'Italia TIM for the Yamaha Factory Racing team under glorious Tuscan sunshine at the famous Mugello circuit where the current championship leader gave a master-class in leading the race from start to finish ahead of main championship rival, Repsol Honda rider Dani Pedrosa. Andrea Dovizioso took the last step on the podium for the Monster Yamaha Tech 3 team after a race-long battle with LCR Honda's Stefan Bradl.
It's been a great win for the whole team's efforts and for Yamaha .
Lorenzo passed Pedrosa at the start of the first lap and set the pace while Pedrosa slotted comfortably into second with Dovizioso making a great start as did rookie Bradl with Ducati Team rider Nicky Hayden also starting strongly. Pramac Racing rider Hector Barbera didn't have a great start from the front row and the Spaniard dropped to 6th after the first lap. Valentino Rossi didn't have a brilliant first lap either, while Hayden was immediately looking to move towards the front and was fighting with Bradl for 5th.
Michele Pirro had some bad luck on the first lap and had to retire with technical problems and the San Carlo Honda Gresini rider ironically then received a Black Flag disqualification for taking a shortcut on track. Back on track Casey Stoner was not having a great start to his race for the Repsol Honda team but had a little good fortune when Barbera got into a tangle all on his own letting Stoner to get passed. Cal Crutchlow (Monster Yamaha Tech 3) was locked onto the rear of Rossi's bike early on and they were both travelling much better than Yamaha Factory Racing's Ben Spies and it wasn't long before the American was caught and passed by his pursuers.
Back at the front of the race, Lorenzo continued to hold steady at the front and Pedrosa was happy to follow while Bradl was into third in front of Hayden with Dovizioso close behind. Stoner was trying his best to make some headway to the leading group while Rossi and Crutchlow were now chasing down Barbera. San Carlo Honda Gresini's Alvaro Bautista also looked out of sorts and was outside the top ten in the early stages. Leading the CRT battle was Randy de Puniet for the Power Electronics Aspar team while Speedmaster's Mattia Pasini was following the Frenchman.
Dani Pedrosa, Repsol Honda Team
Rossi moved passed Barbera moving on the 7th lap of 23 and set his sights on Stoner in 6th with Crutchlow following suit while Spies was having some trouble with his YZR-M1 and dropped back even further out of the top ten. The fight for the lead continued with Lorenzo maintaining his lead over Pedrosa while Bradl and Dovizioso continued to battle for third. Stoner was still trying hard to catch the leading group while Rossi and Crutchlow pursued the Australian. Stoner then made a mistake and ran into the gravel with just ten laps completed but he was able to re-join in 10th place.
NGM Forward Racing CRT rider Colin Edwards was also having problems and had to pit with a technical problem then re-joining. Moving toward the final 10 laps of the race Yonny Hernandez crashed out on his Avintia Blusens machine and Danilo Petrucci was also out of the race to the disappointment of his Came IodaRacing team. Stoner had to dig deep to get to a position where he could fight to pass Bautista for 9th but the Australian looked to get impatient and barged passed the Spaniard hitting his shoulder in the process but Bautista managed to stay on his machine.
The last five laps shaped up to be very exciting with the battle for 2nd place turning into a six-way battle when Dovizioso and Bradl were caught by Hayden who was also chased down by Rossi and Crutchlow. Dovizioso continued to pile the pressure on Bradl and passed the German with 3 laps to go. While Stoner hade moved passed Barbera into 8th the fight for second heated up and moving into the final lap Hayden was the first to make a move and passed Bradl but the MotoGP rookie came right back at the American rider who ran wide allowing Rossi to jump in front and into 5th.
Lorenzo was nearly on cruise control on his way to the finish line with Pedrosa holding station in second. Bradl did as much as he could in the dying stages but was not able to make it passed Dovizioso while Rossi held 5th to the line with Crutchlow also moving passed Hayden and Stoner close behind while Barbera and Bautista made up the top ten. Spies finished the race in 11th after having a battle with De Puniet at one stage with the Frenchman taking the top CRT honor who in turn was followed home by his teammate Aleix Espargaro, James Ellison (Paul Bird Motorsport) and Pasini crossing the line in last.
Speaking after the race, Lorenzo was delighted with his victory saying, "From the beginning I felt great on this track, the asphalt was completely different to Sachsenring which was a nightmare for us. From the first practice here I felt very strong, very good on the bike and a fast constant pace. It was a pity that we had the problem in the last lap of qualifying but the important thing was the race.
Today I was hammering a lot to open a gap at the beginning of the race as I thought my competitors would have problems on cold tyres. Unfortunately I couldn't do it immediately. Only hammering every lap and going faster and faster from 1'48.1 then into the 47s could I open a bit to Pedrosa then little by little it got better and I could start to breathe. It's been a great win for the whole team's efforts and for Yamaha who have given me such a good bike," Lorenzo added.
Pedrosa said he wasn't expecting the fast pace so early one and also experienced problems with grip levels due to chatter. He said, "I braked late at the first corner but I missed something and Jorge was already there. Then a few corners later I was surprised by Dovizioso, he passed me also and it took a few laps for me to make the overtake on him as he was very strong in the first corner so I had to pass him in another part of the circuit. By this point Jorge had already opened up a small gap but I tried to get back in my rhythm and I started to lap in the 1'47's.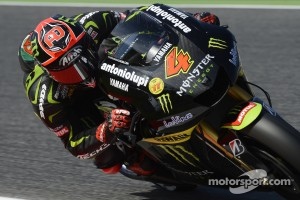 Andrea Dovizioso, Yamaha Tech 3
When I started to drop into these times though, my tyre began to spin a lot in the rear and I got some chatter so I was worried for the tyre. At this point I decided to slow down a little because to catch Jorge meant laps in 1'47's. He was riding very strong so I have to congratulate him, finally for me a s econd place is a good result overall and I want to thank all the team for their hard work this weekend," Pedrosa added.
Thrilled with his podium in front of the Italian fans, Dovizioso said, "To get a podium is always special but to do it in front of the Italian crowd and after such a strong battle makes it feel even better. I got the perfect start and was third at the first corner and I felt very strong in braking at the start so passed Dani at Turn 5. Immediately though I could see that Lorenzo was faster in some parts of the track, but it was good to see again the small points I need to improve to get the best out of the Yamaha. The fight with Bradl for the whole race was fantastic and he did a great job. When he passed me he was making it look easy and I was having to push right at the limit to make sure he couldn't open up a gap that I couldn't recover.
He was trying for his first podium and I was pushing hard to be on the podium in Italy, so it made for a great battle. I knew I was a little bit stronger in the brakes than him so with three laps to go I decided to attack and I was confident I could hold him off. He didn't giveup but I am so happy with another podium and I want to say a big thanks again to my Monster Yamaha Tech 3 crew. We are working so well together and our results show it. After three podiums in a row now I am really looking forward to going to Laguna Seca," Dovizioso added.
MotoGP now moves to the United States in two week's time for round 10 at the Mazda Raceway, Laguna Seca and Lorenzo now leads the championship with 210 points to Pedrosa's 186 and following his misfortune today, Stoner now sits in third place overall with 156 points.