Subscribe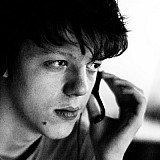 The San Marino GP yielded a scarcely believable maiden MotoGP podium for Marc VDS Honda rider Scott Redding, who was off in the gravel early on and changed his bike twice on his way to third place.
Having recorded his previous personal best finish of sixth at Silverstone, Redding was running in fifth place over the opening laps - but his chances at a good points haul seemed dead and gone when he went off.
"It started to rain, I thought that, well, I've got nothing to lose," he said. "I pushed as hard as I can to stay with [the frontrunners] and I pushed a bit too much, should we say.
"So I blocked the front and I went straight, I entered the gravel and I crashed. I figured the race was done.
"But I still tried to get up as soon as possible and to get to the pitlane and the marshals tried to hold me back.
"It wasn't a huge crash and I had tried to stay under the bike not to break a handlebar or something, but it did give me a full helmet of gravel - I was spitting it out down the main straight."
Redding made it to the pitlane for his first bike change but struggled to get temperature in the wet tyres, saying that he "nearly crashed 18 times" and ultimately deciding on an early switch back to the dry compound.
It ultimately paid off, allowing the Brit to move up to fourth place and then reel in and pass Open rider Loris Baz for the final podium spot.
"When I assumed fourth place, I wasn't sure if something was wrong - after all, I did crash and changed bikes two times. I'm really happy to be here [on the podium] and I definitely didn't expect it when I woke up.
Vindication after difficult season
2015 has thus far been a challenging year for Redding and it's already been confirmed the Brit will be parting ways with Marc VDS as he will join Pramac Ducati next season.
However, Redding was glad to deliver a podium for his current squad. "I think it's just nice to be on the podium on this bike this year and with this team - they work hard all the time and we just had to take that gamble today," he said.
"It was a tough year for us, but we still try every day, every weekend to make it happen.
"I don't want to say 'okay, now evertyhing is going to be good from the next race on' because that's not true - we take the positives when we can take them. Today, we took a lot of risk and we got rewarded for it."