Thanks to Ducati, the Pramac will be able to contest the race on the Le Mans Bugatti Circuit.
The Bugatti Circuit, which is situated approximately 200 km (124 miles) from the City of Lights, has hosted the French Grand Prix since 1969, when Giacomo Agostini topped the 500cc class. Last modified in 2008, the track is currently 4.185 km long (2600 miles) and rather narrow, with several slow hairpins that riders approach hard on the brakes.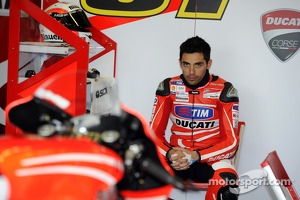 Michele Pirro, Ducati Team
This fourth round of the championship promises to be rather unusual for the team, as Ignite Pramac Racing Team rider Ben Spies, still injured, will be substituted by Ducati test rider Michele Pirro. The Italian already rode at Jerez, in the first of three wildcard appearances that he's making this season.
The Pramac Racing team would like to thank Ducati and Michele for their cooperation.
Michele Pirro – Ignite Pramac Racing Team "I'm happy to have this opportunity. This weekend I'll use the same bike that Ben would have used. I'm sorry for him because I know he's struggling due to his shoulder injury, and since MotoGP bikes are very physical, if you're not truly fit, riding is difficult. I hope to do my best and to repay the trust that the guys from the team and Ducati have placed in me. We're really working hard."
Pramac Racing Team