Dislocated left clavicle for Ben Spies.
On the final lap of this morning's free-practice 3, at which point direct transfers to Q2 are decided, Andrea Iannone was bumped to eleventh place by just .017 seconds by fellow Ducati rider Nicky Hayden.
The Italian will therefore participate in the Q1 session.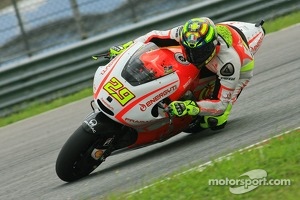 Andrea Iannone, Pramac Racing Team
Andrea Iannone
– Energy T.I. Pramac Racing Team: "This morning was a really positive session because I improved quite a bit compared to yesterday. My shoulder hurt a bit more, maybe because of the exertion I put it through yesterday. Before I went on track, I decided along with the Mobile Clinic to take a painkiller to help me during the session.
Still, it hurts in the changes of direction. Anyway, I liked the changes we did to the bike, and I rode better, so all in all, I'm not so bad. I'm sorry to have barely lost out on going straight to Q2, but we'll get ready for Q1 and the race. We have to improve our pace."
Dislocated left clavicle for Ben Spies
The Indianapolis GP weekend ended with a 2nd-3rd degree dislocation of the acromioclavicular joint in his left shoulder, suffered in a turn-four crash approximately midway through the third free-practice session.
Fortunately, Spies' right shoulder, which recently underwent a long rehabilitation process, wasn't injured in the fall.
On Monday, the Texan will undergo additional, more thorough exams, after which it will be possible to better understand the necessary recovery time.
Pramac Racing