Second win of the year for Spaniard in incident packed race.
Repsol Honda rider Dani Pedrosa won the Red Bull Indianapolis Grand Prix in devastating fashion today at the World famous 'Brickyard' with the Spanish rider now closing in on championship leader Jorge Lorenzo (Yamaha Factory Racing), who finished second. Andrea Dovizioso grabbed a thrilling third position after battling with Pedrosa's teammate Casey Stoner who delivered a Trojan effort to secure a very valuable 4th position despite multiple fractures to his right leg and damaged ligaments.
The start of the 28-lap race saw Yamaha Factory Racing's Ben Spies grabbing the holeshot ahead of Pedrosa and Monster Yamaha Tech 3 rider Andrea Dovizioso while Lorenzo and LCR Honda's Stefan Bradl next along with Stoner being cautious in the opening exchanges. San Carlo Honda Gresini rider Alvaro Bautista started ahead Monster Yamaha Tech 3's Cal Crutchlow and Valentino Rossi (Ducati Racing Team). Aleix Espargaro (Power Electronics Aspar), took the early lead in the battle of the CRT machines while prototype riders Toni Elias, who is substituting for Hector Barbera, and Cardion AB Motoracing ride Karel Abraham were both outside the top ten early on.
"I'm extremely happy with this win and I really want to congratulate the whole team.
Back at the front Spies and Pedrosa were in clear 1st and 2nd positions with Lorenzo next along +1.5s after 3 laps. Pedrosa made his move into the lead on the fourth lap while Stoner was beginning to fight through the pack passing Bradl on lap 5 and then setting his sights on Dovizioso. Mechanical woes began to affect some riders with Michele Pirro first to retire on his San Carlo Honda Gresini CRT machine while disaster struck for Spies at the start of the sixth lap with smoke billowing out of the exhaust of the American's YZR-M1.
Lorenzo was left out on his own in due to his teammate's misfortune and promoted to second place with Pedrosa still +1.5s ahead. Dovizioso began to hold up Bradl and Stoner nearing the ten lap stage with Bautista and Crutchlow both joining the battle while Rossi fell off the back of this group and circulating in 8th place. Stoner made his way past Bradl before the ten-lap marker while Crutchlow suffered a low side crash to retire from the race. Randy De Puniet also retired his Power Electronics Aspar machine with just over a third race distance completed.
Stoner moved passed Dovizioso into 3rd place at start of the 10th lap while Espargaro continued to lead CRT battle behind Rossi with Yonny Hernandez also in the top 10 for the Avintia Blusens team with Abraham and Elias still outside the top ten and being followed by: Ivan Silva on the second of the Avintia Blusens machines, Colin Edwards (NGM Forward Racing), Steve Rapp (Attack Performance), Paul Bird Motorsports rider James Ellison and Aaron Yates and the GPtech team in the final position.
Jorge Lorenzo, Yamaha Factory Racing
Moving into the second half of the race Pedrosa was nearly five seconds ahead of Lorenzo with Stoner continuing to circulate in third and Dovizioso doing his best to stay in touch. Pedrosa was riding within himself for the majority of the race but on lap 17 the Spaniard nearly crashed with what appeared to be a missed gear leading to the bike nearly locking up and causing him to lose over a second to Lorenzo. Bautista was still in pursuit of Bradl while Rossi was still on his own off the pace somewhat.
The final quarter of the race saw Dovizioso making a great effort to catch Stoner and with 6 laps to go the Italian made his move passed the Australian who wasn't able to continue the fight for the final place on the podium. The final number of laps saw Pedrosa continue to ease out the lead ahead of Lorenzo who encountered some delays while lapping some of the slower riders. Dovizioso secured third place on the podium with Stoner having to settle for 4th. Bautista finished in 5th with Bradl in 6th and Rossi securing 7th. Abraham crossed the line in 8th place to be followed by a jubilant Hernandez who sealed the title of fastest CRT rider this weekend. Finishing in 10th place was Espargaro ahead of Elias, Silva, Edwards, Ellison, Rapp and Yates.
Pedrosa was delighted with his race win and maximum points haul of 25 saying, "I'm extremely happy with this win and I really want to congratulate the whole team for the great job they've done this weekend, the bike worked perfectly. It was difficult at the beginning of the race because the pace was very strong from the start. I got past Ben Spies, but I kept calm because I knew I had the pace today to fight for the victory.
When I took the lead, I put in some very strong laps to build up a gap and then I made a mistake in turn 2 going into neutral and Jorge reduced the gap by 1 second. But I was able to get back on my pace and ride comfortably to the end, where I think Jorge struggled a little with the soft rear tyre. We managed to take our second win of the season and every point is important. I want to also congratulate Casey for his result; he did a superb race in his condition and I am sure he will be strong again in Brno," Pedrosa added.
Lorenzo was content with second place after nursing his tires a little. He said, "We thought that the soft tire could finish the race well so we took a risk with it. At the beginning it wasn't so bad and I could follow Ben and Dani. Then Ben had his engine failure, which was lucky for my position but I am so sorry for him. Dani was a little step forward today and had a tyre advantage in the end. Anyway, second was the best we could do today which is very good for the Championship."
Speaking after securing another podium for his Monster Yamaha Tech 3 team, Dovizioso said, "This podium is once again confirmation of our great work as a team and I am really proud of the support I get from all my crew in the Monster Yamaha Tech 3 Team. For us a podium is always like a victory and of course I'm really happy but I think we still can do better. But honestly I didn't expect to be so strong at this track. Unfortunately I could not push as hard as I would have liked to at the beginning of the race, so I lost a bit of time and could not stay with the leading group. And afterwards when Ben broke the engine I did half of the straight trying to see through the smoke and I was not sure if there was oil on my tyres, so I lost some important tenths.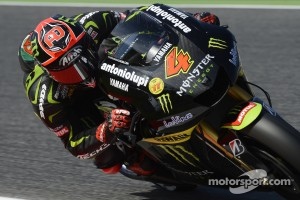 Andrea Dovizioso, Yamaha Tech 3
Maybe the position could not have been better but for sure the gap would have been less to Dani and Jorge. I'm not completely satisfied because I wasn't as consistent as I'd hoped, but to be on the podium is a great feeling and a good reward for all our hard work. I also want to pay tribute to Casey today because he delivered a brilliant performance. Physically he wasn't in the best shape but it was still very hard to beat him. Now we got to Brno with a lot of confidence and I'm optimistic that the podium is a realistic target again," he added.
Lorenzo now leads the championship with 225 points with Pedrosa in second on 207 points and Stoner in third on 186 points. MotoGP Round 12 takes place next weekend at the bwin Grand Prix Ceské republiky at the Brno Circuit.