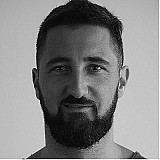 MotoGP riders have given their initial reactions to Michelin's new-for-2016 intermediate tyre, saying they are still uncertain of the ideal conditions to use it in.
One of the most common complaints among fans filling the grandstands of any MotoGP race is the lack of activity during practice sessions in difficult conditions, especially when the track is partly dry and partly wet.
To try to please the crowd, Michelin has now introduced a new intermediate tyre, a compound especially designed for those conditions.
Bradley Smith was first to try it out during the first pre-season test at Sepang, with a number of other riders following suit at Phillip Island in the mixed conditions.
"The intermediate is a compound that both the riders and Dorna asked for," Piero Taramasso, Michelin's MotoGP boss, explained to Motorsport.com. 
"Its profile is similar to that of a slick, but the mixture is harder than the rain tyre and softer than the slick.
"Between a slick tyre and a rain one, there is a difference of around 10 seconds in favour of the former. The intermediate is in the middle of both.
"This year, each rider will have three sets of this type of tyre every weekend."
The riders, for their part, are still not sure what to expect. It's a new element in a key component, so they have to go slowly to find the limit.
"I only did one lap. It appears to have potential but it's not easy to know when we can use it. We are still unsure and I think Michelin too. It will probably be useful during qualifying," explained Marc Marquez.
"It can come in handy during qualifying on Saturdays, because in mixed conditions it's very tricky to go out," added Aleix Espargaro.
Valentino Rossi agreed: "The complicated part is finding the right moment to use it. But yes, it can be useful, especially when the track is starting to dry up. In this case, going out with slicks is very risky."