Pramac Racing press release
Fifth And Seventh Place For Capirossi And De Puniet At Valencia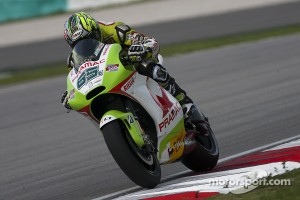 Loris Capirossi of Rizla Suzuki MotoGP
A pair of free-practice sessions were completed today at Valencia, site of the MotoGP world championship's last round. Loris Capirossi, with the number 58 on his bike in honor of Marco Simoncelli, finished with the fifth-best time (1:46.108). His teammate, the Frenchman Randy De Puniet finished two positions under, in seventh place with 1:46.371.

Fabiano Sterlacchini – Pramac Racing Team Technical Director
"It went well, apart from this afternoon's result, which is a little misleading. We started with a pair of tyres that was particularly old, and that caused some problems. It's why we then decided to return to the setup form the morning, when Loris had done well, but unfortunately he began to lose some feeling. As for Randy, there's not much to say; he had a perfect session. We hope he can repeat that performance tomorrow."
Loris Capirossi - Pramac Racing Rider – 5th best time in 1:46.108
"it was an honor to ride with Marco's number on my bike. Apart from that, it was a bad afternoon. The tyres didn't work, so in the final minutes, we had to use my tyres from this morning. They were a bit worn, but I still managed to improve my second-session time by three seconds. I'm happy with how the morning went, and I'm very optimistic for tomorrow. We can do well."
Randy De Puniet – Pramac Racing Rider – 7th best time in 1:46.371
I'm satisfied. The track, this morning was quite dry, principally at the end of the session and I finished in seventh place. In the afternoon, instead, with the wet track I done well, dying with the seventh best lap time. The feeling with the bike is good, I hope it will also tomorrow. There are many chances to close this season with a good result, even if the my thought is to Marco and his family."