Pramac Racing press release
Final Round Of The MotoGP Season At Valencia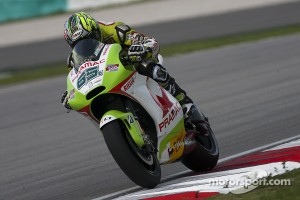 Loris Capirossi of Rizla Suzuki MotoGP
The final round of the MotoGP world championship will take place this weekend in Valencia, following the tragic loss of Marco Simoncelli in Malaysia. It will be the last race of Loris Capirossi's career, as the premier-class veteran has decided to retire.
Fabiano Sterlacchini - Pramac Racing Technical Director
"Unfortunately, Valencia take on a new meaning after what happened in Malaysia. Anyway, we have to honor the last round of the season. The Valencia track isn't particularly technical, so it shouldn't be difficult to identify the right setup for the bike. It will be an unusual race for Loris, as it will be the last of his career. It was supposed to be a party, but no one will feel like celebrating anything."
Loris Capirossi - Pramac Racing Team
"It will be difficult to be in the paddock without Marco, as everyone will miss him. No one will feel like going on the track, but we have to do it for him and for all fans of motorcycle racing. It will be my finalrace, and I still don't know what will be going through my head, but I want to do it as well as possible."
Randy De Puniet - Pramac Racing Team
"I share Capirex's thoughts; it will be really difficult to race at Valencia without Marco, but part of our job is to continue on. I'll try my best to finish off the season with a good result."
Capirossi And De Puniet In Valencia With Abanderado
Day of work in preparation of the Grand Prix de la Comunitat Valenciana, scheduled this weekend at the Ricardo Tormo Circuit in Valencia, for the Pramac Racing Team riders Loris Capirossi and Randy De Puniet. The white and green duo attended to the press conference that officially inaugurated the new partnership between Abanderado, Spanish brand of underwear and undershirt, and the Pramac Racing Team.
The event, organized in the Corte Ingles shopping centre in the heart of Valencia, also saw the participation of Spanish rider champion Angel Nieto.
During this weekend of race the brand Abanderado will be positioned on Randy De Puniet's bike.