Sachsenring Circuit
Karel Abraham secures four points as he finishes twelfth

Grand Prix of Germany at the Sachsenring Circuit saw Karel Abraham producing a determined performance which brought him four points for twelfth place.
Struggling with the set-up of the Ducati Desmosedici GP11, the Cardion AB Motoracing rider was determined to score as many points as possible before the race start.
When the lights went off, the Cardion AB Motoracing rider was fifteen but then he began his pursuit to other riders.
"Due to problems we had during the whole weekend I am satisfied with the result of the race," said Karel Abraham. "I have to get used to the set-up of the motorcycle during the race, but even though I scored faster and faster lap times," continued Karel Abraham, who set his best time 1:22,897 on lap 23.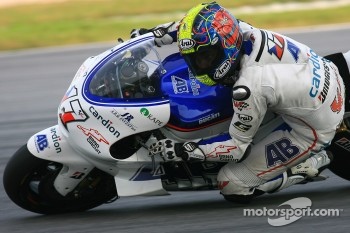 Karel Abraham of Cardion AB Motoracing
For the last four laps, when he overtook two other riders, Karel Abraham fought with Hector Barbera for eleventh place.
"I was behind him on the last lap, but the I managed to overtake him," said twenty-one years old Czech rider, who eventually finished 0,204 s behind the Spanish rider. "Unfortunately, in the corner - in which I crashed yesterday – he overtook me again and finished ahead of me," added.
With 41 points, Karel Abraham is now in the twelfth position in the overall MotoGP standings.
Members of the team Cardion AB Motoracing now heads to Monterey for the Grand Prix of USA which will take place at the Laguna Seca from 5th to 7th of August 2011.
by: Cardion AB