Miller urges Rossi and Marquez to end "immature" feud
Jack Miller says the "silly and immature" feud between Valentino Rossi and Marc Marquez needs to end, as it threatens the safety of MotoGP riders.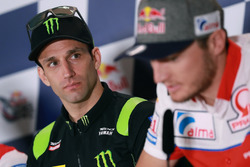 The rivalry between Rossi and Marquez, which had subsided after the pair's infamous clash during the 2015 Malaysian Grand Prix, was reignited after the reigning champion hit the Italian and caused him to crash in Argentina.
The incident was followed by Rossi, as well as others, heavily criticising Marquez, who was accused of "destroying our sport" and "not respecting his rivals".
However, during the Thursday MotoGP press conference at Austin, Miller urged Rossi and Marquez to stop their feud, which he branded "silly and immature", and said could also be dangerous on-track.
Miller referenced the rivalry between Dani Pedrosa and the late Marco Simoncelli, which led to a crash between them during the 2011 French Grand Prix and left Pedrosa with a broken collarbone.
"We are all here racing and risking our lives and I think for these fans and also riders to fight against each other, I think is quite silly and immature," said Miller.
"They are quite old and they have to remember life is short and we are risking our lives here.
"I have seen this situation unfolding with a lot of people and people picking sides, and I just want to refresh people's memory of Marco Simoncelli and Dani Pedrosa and how that ended."
When asked what changes he wants to discuss at Friday's Safety Commission, during which the events of the Argentine Grand Prix will be discussed, Miller said the fighting inside the paddock needs to be "controlled" more.
"I think they need to control it a little bit better the fighting inside the paddock," he said. "We are here to race motorcycles and we are here to fight but the fight should generally try to stay on track and not try to fight so much in the media.
"I think that is one of the clearest things. There are a lot of people coming, the journalists especially, coming at you trying to get you to say something to mess up and I think it is not the correct way.
"The fighting I think should stay more on the track and of course us riders we have to be careful with what we say because words can be twisted as we've seen many times before."
Zarco: MotoGP caught between "two gods"
Zarco reckons conflicts should be sorted between the riders themselves, remarking that MotoGP is currently stuck between "two gods" in the form of Rossi and Marquez.
"We are touching two gods, we have Vale that is the first god and now Marc is becoming this other god because he is doing incredible things," said the Tech 3 Yamaha rider.
"It is between riders that we must almost speak together and find a solution together.
"We have someone that can tell us you must do that but then we are free to decide and just need to control that. We have good guys in the race direction and they tried their best for everybody."
Miller urges Rossi and Marquez to end "immature" feud