Get alerts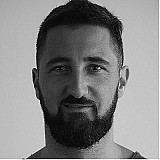 Ducati sporting director Paolo Ciabatti says Jorge Lorenzo was relieved by his first few laps with the Italian marque - and that their first day of testing together has been "very positive".
Lorenzo's decision to join Ducati after nine years with Yamaha has faced some skepticism, with questions raised over whether the Spaniard would manage to adapt to the Italian manufacturer's famously demanding, difficult-to-ride bikes.
However, Lorenzo's debut with the Borgo Panigale marque, taking place on the first day of the post-season test at Valencia, appears to have gone well.
The Spaniard completed the day's programme with Ducati's current-spec GP16 and finished the day in third, close behind his Yamaha replacement Maverick Vinales and former teammate Valentino Rossi.
"It has not been a shock for Jorge," Ciabatti told the media after the test day, with Lorenzo himself precluded from discussing his Ducati debut by contractual obligations.
"He had a big smile on his face as he returned to the garage after his first laps. He has relaxed and has realized that [the Ducati], while a different bike [to Yamaha], is not something from another world.
"The first day of this new adventure has been very positive from both sides. Jorge's feedback is good."
Teammate Andrea Dovizioso, who was less than a tenth off Lorenzo in fifth, had previously stated that the Spaniard would likely be in for a difficult transition from Yamaha - but said today that he was happy about how Lorenzo's debut turned out.
"It's always very important the first test for a new rider, and the first feeling you have on the bike, normally, is the right feeling," Dovizioso said.
"For sure, you have a margin and a lot of time to try to improve the situation, but the first feeling is really important.
"It was really interesting to see him [Lorenzo] and I'm happy how it's worked out, how it was today. His speed, I'm not surprised about his speed, but the bike, for sure, there's a big difference from his previous bike. It's very important for us, for developing."
Bigger margin for improvement
While Lorenzo only trialled the GP17 for an installation lap, Dovizioso spent much of the day with the Italian marque's new bike - and said it was no worse than the GP16, while having a bigger margin for improvement.
"We tried to create a similar set-up to the previous bike, fortunately nothing is worse, now we have a chance to work in a different area - because, [for] how to make the bike, we have a margin in a few areas," Dovizioso said.
"The feeling is a little bit better with the engine, because in the bottom area, it's softer - and this is always nice for the rider.
"The positive thing about the new bike is the area we can go, it's much bigger than the previous bike. But it's something we will try a little bit tomorrow, and we will have the possibility to use that potential during the season."