Honda, Yamaha deny interest in poaching Dovizioso
Honda and Yamaha have dismissed reports that they are interested in poaching Andrea Dovizioso from Ducati for the 2019 MotoGP season.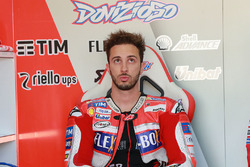 Dovizioso scored six race victories this season and was Marc Marquez's main championship challenger, only falling short of denying the Honda rider in a dramatic Valencia season finale.
The Italian veteran's success will likely make him one of the key players in the rider market for the 2019 season, with all 12 factory riders' contracts up for renewal after next season.
Earlier this year, Dovizioso revealed he was close to a return to Honda, where he raced from 2009-11 before switching to Tech 3 Yamaha and then Ducati, amid last year's rider market negotiations.
But, while praising Dovizioso's efforts this season, ex-Honda team principal Livio Suppo insisted that reports of a renewed bid for the 31-year-old's services are wide of the mark.
"It's no secret that last year, when there was the possibility that Dani [Pedrosa] was leaving, we spoke with Dovi," said Suppo before the recent news of his departure from Honda.
"We like Dovi, we know his value, we know he is a good rider. Honestly everybody in this paddock didn't expect the season he's done, and we are very happy for him.
"At the time [last year] we spoke to him, but next season everybody has riders under contract so there's no need to speak about it."
Yamaha team boss Lin Jarvis added that Dovizioso's interests would be best served by remaining at Ducati rather than risking a switch to a rival manufacturer.
"There's no truth honestly to any of these rumours [of Yamaha wanting to sign Dovizioso]," he said. "But I have great respect for Andrea.
"You reap what you sow, and in Andrea's case it didn't arrive by accident – it arrived by five years of commitment to the project.
"He's grown with the bike, and this year, all of the stars aligned for Dovi and he had a phenomenal season. From his side, I believe the best thing for him is to remain at Ducati."
Ducati sporting director Paolo Ciabatti conceded that the Italian manufacturer will most likely have to up its financial offer to Dovizioso in light of his success when negotiations about a contract extension begin.
"Negotiating power is always based on your results," admitted Ciabatti. "A rider with a winning history, as Dovi has had this year, will be in a stronger position when he negotiates.
"I'm sure when the time comes, we will have to consider that he's won seven races for Ducati – and hopefully some more."
Honda, Yamaha deny interest in poaching Dovizioso