Pedrosa the pole-man in Valencia
Dani Pedrosa, Repsol Honda Team
The Gran Premio de la Comunitat Valenciana will see Repsol Honda Team's Dani Pedrosa starting in pole position tomorrow, his fifth of the season.
Pedrosa, the only rider who has won at Valencia in all three classes, set a new pole record on his last flying lap (1'30.844) beating Valentino Rossi's old record by 0.158 seconds (1'31.002), which Rossi recorded using qualifying tyres in 2006.
Dani Pedrosa "It was almost a perfect lap and I gave 100% because I knew I wouldn't be able to improve any more as the tyres were very good for the first lap and then the drop in grip was quite severe. I'm very happy with the pole position and the new record because Valentino's old record was done with qualifying tyres. We had only one dry session to test the new asphalt and we saw that the grip level is a little better but the tyres dropped down very quick. We still have to decide on the tyres for tomorrow because we have used only the soft compound, but it depends on the weather - if it rains we will need to take what we learned yesterday. I really would like to win here and finish the season with a good race."
Stoner on front row for his last-ever GP
Repsol Honda Team's Casey Stoner starts from the front row of the grid for the tenth race this year as he contests his final-ever Grand Prix in Valencia tomorrow.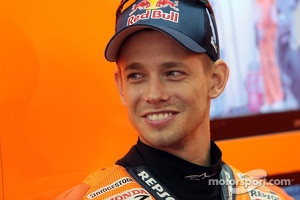 Casey Stoner, Repsol Honda Team
Stoner had looked to be pole-contender for most of the session, yet he was ultimately not able to get the better of his teammate Dani Pedrosa or World Champion Jorge Lorenzo.
Casey Stoner "Qualifying didn't really go to plan, it was a pretty frustrating session. Due to the miserable weather this weekend, we had a lot of work to do in a very short space of time, we did make some good progress but unfortunately we couldn't find enough before the end of the session. There is a new surface here and we expected everything to be really good and smooth but in fact we've found there are a lot of bumps on the circuit. Now I'm thinking how we can improve the bike and get everything working a little easier. We need to adapt the electronics to allow me to be less restricted on this track so I can ride how I want to. Hopefully the weather is dry tomorrow and we can take that extra step in warm up."
Repsol Honda