Andrea Iannone and ended the 24-lap race in 14th place.
After a stormy start to the Japanese GP weekend, the sun shone today at the Motegi circuit, the schedule for the final leg of the overseas tripleheader went ahead as planned.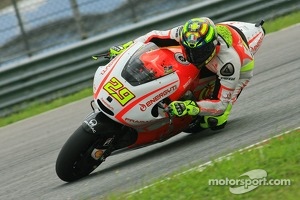 Andrea Iannone, Pramac Racing Team
The track conditions were completely different compared to yesterday's session and everything had to start over again for the dry. The 50-minute morning free practice was useful for Andrea Iannone as he continued to search for the right set-up for the race. Despite his 13th position on the grid, the Ignite Pramac Racing Team rider was determined to repeat his good performance at the Australian GP, but in turn 3 of lap 1 he finished off the track, and was forced to return at the back of the field. The rider from Vasto, however, immediately started to attack in order to recover some positions, and ended the 24-lap race in 14th place, and just a few more laps would have been enough to move up some more places.
After a short and well-deserved break the riders and the MotoGP teams will meet up again at the Valencia Grand Prix, the last round of the 2013 season, scheduled for Sunday, November 10.
Andrea Iannone – Energy T.I. Pramac Racing Team
"We didn't have much time to find the correct setup for the bike. We tried some changes this morning after I had a few problems, but we didn't improve much. Then we looked at the data after the session and made some additional changes that I felt in the race, which was good. Unfortunately, I found myself behind Nakasuga right after the start; I braked hard to avoid him, my rear wheel came off the ground and I went long in Turn 3. I came back on track and did everything I could to recover positions. Fortunately, I was able to find a good rhythm, and I steadily gained some positions."
Pramac Racing Team