Get alerts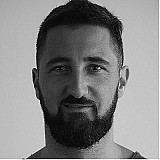 Pol Espargaro says he is baffled by the helmet visor problems he had during the MotoGP season opener in Qatar.
The Tech 3 rider could hardly see anything during the final laps of the race as the sweat from his forehead was steaming up the visor during the night event.
Despite the problems, Espargaro finished seventh in the race, 18 seconds off winner Jorge Lorenzo.
"It was agony. The final laps were terrible because my visor was fogging up," Espargaro told Motorsport.com. "With the sweat and the reflections from the lights I couldn't see anything at all.
"The impotence was brutal. It's the first time that happens to me. I don't get it," said the Spaniard, who after the race sought answers from his helmet supplier AGV to try to understand the problem.
"They've told me that they didn't know exactly what could have happened," he added.
"I know that Valentino [Rossi] uses the same brand. He puts some sort of piece to avoid it, but it had never happened to me."
Espargaro said AGV will find a temporary solution for the upcoming races in Termas de Rio Hondo and Austin.
"They've assured me they will solve it for Argentina and Austin, which are back to back, although it will be a temporary fix," he said. "They say for Jerez they will bring a helmet with a difference system so the sweat from the forehead doesn't go through."