Ducati warns it won't repeat "extraordinary" Lorenzo contract
Ducati won't offer its MotoGP riders a repeat of the "extraordinary" big-money contract that helped it lure Jorge Lorenzo from Yamaha, says CEO Claudio Domenicali.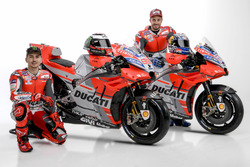 Like the majority of the field, both Lorenzo and Andrea Dovizioso are out of contract at the end of the 2018 season, with Dovizioso's strong 2017 form in particular expected to make him a key player in the silly season.
The Italian is likely to command a higher salary in light of the six race victories he scored, especially as big-money signing Lorenzo failed to win in a tough first year for the team.
But Domenicali has made it clear there will be no repeat of the €12m-a-year retainer that Lorenzo is currently earning, highlighting how much more competitive the bike is now than it was two years ago.
"We made an extraordinary effort to get Jorge, but we must not forget he came with five world titles in his pocket," said Domenicali during Monday's team launch. "This was an extraordinary one-off effort.
"In future there will be more balance when it comes to signing riders. We can offer a bike that has shown itself to be extremely competitive, because Dovizioso did very well.
"When we negotiated with the two of them [Dovizioso and Lorenzo] in early 2016, we were offering a bike that hadn't won a race in five years.
"Since then we've won two races in 2016 and then six in 2017, so the competitiveness of the bike is different. This will be an important factor in discussing the renewals of both riders."
Asked whether Ducati is prepared to make sacrifices to keep Dovizioso amid potential interest from rival teams, Domenicali replied: "We will do everything possible to keep Andrea with us, because we believe his potential on our bike is very high.
"Furthermore, the Dovizioso we have today is not the same one as two years ago. When we signed Lorenzo, we took into account his five world titles. Dovi won six races in 2017.
"It's clear our goal is to keep both riders. But on the other hand the conditions have changed considerably and we will have to try and find a point of balance."
Negotiations to start before Qatar
Ducati sporting director Paolo Ciabatti said discussions with both riders would begin before the Qatar season opener in March when asked about a potential timeframe.
"We need to start exploring the situation in the next weeks," he said. "I don't think [about] making a firm decision too early, but for sure [it's good] to have a clear picture of the situation.
"Quite early means probably between the second half of February, first half of March, [then] I think we should know a little bit more what is the clear possibility for us in 2019 and 2020.
"We will have already a clear idea of the situation with both Andrea and Jorge early in March, and then depending on what the situation is we will move forward."
Additional reporting by Giacomo Rauli
Ducati warns it won't repeat "extraordinary" Lorenzo contract