The second half of the 2012 MotoGP World Championship got underway in positive fashion for Monster Yamaha Tech 3 Team riders Andrea Dovizioso and Cal Crutchlow after both posted competitive lap times in practice at Laguna Seca today.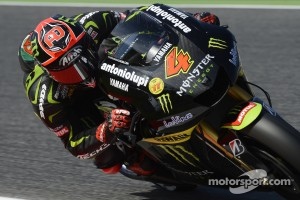 Andrea Dovizioso, Yamaha Tech 3
Andrea Dovizioso's bid to extend his fabulous run of form in the US Grand Prix started well in cool and cloudy conditions this morning when the Italian set the fifth quickest time.
This afternoon's second session took place under gloriously sunny skies and Dovizioso was able to improve his pace by almost 0.6s in much hotter conditions.
Dovizioso, who is chasing a fourth consecutive podium finish in Sunday's 32-lap race, finished with a best time of 1.22.021 that kept him fifth position and he was the fastest non-factory rider to lap the challenging Laguna Seca track, which features the jaw-dropping Corkscrew section.
British rider Crutchlow also enjoyed a satisfactory start to his preparations for round 10 of the 2012 MotoGP World Championship. Crutchlow had finished just 0.063s behind Dovizioso this morning and he was pushing hard to improve his pace in the second session when he fell heavily at Turn 10.
Crutchlow was able to walkaway from the spill unscathed and he showed his fighting spirit once again to improve his pace after the session was red flagged to replace a trackside air fence damaged in a crash involving Valentino Rossi.
Crutchlow returned to the track for the final 10 minutes and he improved his lap time to a 1.22.258 that put him in sixth position on the combined leaderboard.
Andrea Dovizioso
Position 5th - Time: 1'22.021 - Laps 46
"It has been a positive start to the weekend but the gap to the front is quite big. The second session was a bit strange because after the red flag there was a lot of traffic on track in the final stages and it was hard to get a clear lap in. I could have possibly done the same time as Ben (Spies) but certainly not the low 21s the top three were doing. My aim for this afternoon was to get closer to Ben and we managed that. I was almost 0.7s behind him this morning but only 0.3s this afternoon, so that is a good step forward. We improved the bike so I am satisfied with the work the Monster Yamaha Tech 3 Team did today. We still have some margin to improve and I am looking forward to the rest of the weekend."
Cal Crutchlow
Position 6th - Time: 1'22.258 - Laps 46
"Today didn't really go according to plan because this afternoon I had a silly crash. It was my own fault and we have to look at the data to fully understand what happened. I didn't feel I did anything different in that corner to other laps but we will have to check. I've got a small cut on my right leg but fortunately nothing worse because it was a fast crash. I am sorry to my Monster Yamaha Tech 3 crew though because they will be busy tonight fixing up the bike. I am still reasonably happy because I was able to go back out again and gain a bit of time and in both sessions I was inside the top six, so we are pretty competitive. We need to calm the bike down a little bit but I will sit down with my crew tonight and come up with a plan that I'm sure will help me stay challenging inside the top six for the rest of the weekend."
Source: Yamaha Racing