Monster Yamaha Tech 3 Team riders Andrea Dovizioso and Cal Crutchlow slipped seamlessly back into fast form after the MotoGP summer break to clock competitive times inside the top six at the legendary Indianapolis Motor Speedway today.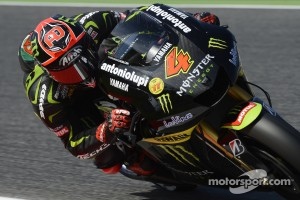 Andrea Dovizioso, Yamaha Tech 3
Torrential rain that fell during severe thunderstorms yesterday meant track conditions were far from ideal in this morning's opening practice session, with a lack of grip resulting in lap times that were over two seconds off record pace.
Dovizioso was fast today and took full advantage of significantly improved conditions this afternoon to challenge for the top three throughout the second 45-minute session.
The Italian rider was a massive 3.2s faster with more grip available and his best time of 1.40.560 put him fourth on the combined timesheets. He was only 0.058s outside of the top three and is confident with further improvements to the race set-up of his YZR-M1 machine that he will be a podium contender in Sunday's 28-lap race.
Crutchlow finished seventh this morning but he was a victim of the treacherous conditions when he fell heavily off his Monster Yamaha Tech 3 YZR-M1 machine having inadvertenly run over a damp patch that remained from yesterday's heavy rain. The British rider was unhurt in the spill and he bounced back superbly to claim a place inside the top six after posting a best time of 1.41.055. That was over two seconds faster than his opening practice best of 1.43.295.
Andrea Dovizioso
Position 4th - Time: 1'40.560 - Laps 30
"I'm really happy with my rhythm this afternoon because this morning the track was unbelievable. There was absolutely no grip and it was very difficult to try and understand the feeling from the bike or where the limit was. I improved by more than three seconds from this morning so it shows how bad the conditions were. But we expected this because it's always like this here. The infield track we race on is not used during the whole year, so it's quite dirty. And yesterday's rain certainly would not have helped. We made some good changes to the bike for the second session but we need to improve our pace again tomorrow. Ben was able to do some very consistent laps and he is the benchmark for Yamaha so far. I can look forward to tomorrow though with a lot of confidence and I'm sure I can be fighting to be on the second row at least. If we can find some more grip, particularly on corner entry, then we should be very competitive tomorrow."
Cal Crutchlow
Position 6th - Time: 1'41.055 - Laps 33
"I am pretty happy to finish sixth overall on the first day because I had a big crash this morning and it could have been much worse. Fortunately I wasn't injured but there were a few damp patches still on the track after the storms from yesterday but it was really hard to see them. I took a big hit on the left side of my body but I was able to recover well and ride strongly this afternoon. We made some good changes to the bike that gave us some more grip but it was obvious this morning the track wasn't in great condition when you look at how slow the lap times were. I used the same hard rear tyre for the whole session and we gained a lot of valuable information that will help for Sunday's race. I did my fastest lap on the last one, which is a really good sign and bodes well for the rest of the weekend."
Source: Yamaha Racing