Andrea Iannone had a good start but turn 10 saw the end of his race.
Inspired by the good setup he and his team had found over the weekend, Andrea Iannone made an aggressive start to the Catalan Grand Prix in an effort to score a top-ten result, and he stayed with Nicky Hayden and Andrea Dovizioso for the first five laps.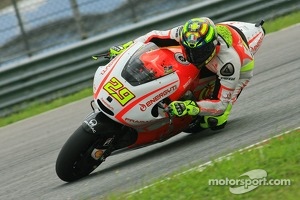 Andrea Iannone, Pramac Racing Team
Unfortunately, he then lost the front and fell in turn ten, ending his race prematurely.
The incident was particular disappointing considering the promising morning warm-up session, in which the Italian had set consistently good lap times. Nonetheless buoyed by the positive signs that emerged during this sixth round of the MotoGP championship, the team and Andrea are focused on tomorrow's test day at this same track, where they'll work with an eye toward the June 27-29 Assen TT.
Andrea Iannone – Energy T.I. Pramac Racing Team
"The track was slower than it had been this morning, and especially compared to yesterday. I had very little front grip, and I was losing the bike in many parts of the track. I knew that the high temperature was probably affecting the pace, but I was able to manage it. I tried to ride more or less like Nicky, but maybe we were right at the limit for the conditions because first I fell and then he did. Dovi, on the other hand, backed off, maybe because he immediately understood the situation; he used his experience, which I still don't have. My tyre choice was the only possibility, as it would've been worse if I'd used the soft front. The pace this morning was a second higher, and then probably the increase in temperature had another big affect, causing troubles that we hadn't yet encountered. We were there today, and we gave it our all; we could've had a decent race, but maybe I shouldn't have kept pushing so hard. Anyway, I hope to be able to have other weekends like this, and we'll see if we can get some good results."
Pramac Racing Team