Both Tech3 riders did not finish the race.
Monster Yamaha Tech3's Bradley Smith and Pol Espargaro suffered ill luck during an eventful opening race of the 2014 MotoGP World Championship at the Commercial Bank of Qatar Grand Prix. Both Tech3 riders did not finish the race with Britain's Bradley Smith falling whilst challenging for a podium position on lap 19, and Spanish rookie Pol Espargarohad a mechanical issue forcing him to retire on lap 18.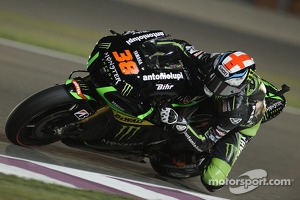 Bradley Smith, Monster Yamaha Tech 3
The opening race began in emphatic fashion for Bradley Smith, who qualified in a personal best ever position of 3rd on the front row of the MotoGP grid. The young English rider was in 2nd place during the opening laps and was in contention of leading the Grand Prix, before settling into a steady rhythm. The Monster Yamaha Tech3 rider remained close to the front for the duration of the race, and as he was preparing his attack on the leading four on lap 19, Smith lucklessly lost the front of his Yamaha YZR-M1 at turn 6.
Pol Espargaro's positive form during the preseason and free practice sessions unfortunately came to an unsuccessful conclusion at the opening race at the floodlit Qatar circuit, due to an technical problem causing him to pull into the pits and retire. The reigning Moto2 World Champion ran competitively all weekend and impressed with his rookie performances on the MotoGP bike during all sessions. Espargaro started the MotoGP race strongly, and was placed inside the top ten comfortably. The young Spanish rider set into a good race pace and held 8th position until the gearbox issue struck on lap 18 with only four laps remaining around the 5.83 kilometre Losail International Circuit.
Bradley Smith (DNF): "It's plain to see that this wasn't the ideal way to finish the opening race of the season as I gave everything that I possibly could have during the race. I was feeling good on the bike, however it was difficult to close the final second to the front runners but with five or six laps to go I was determined to try and catch them. Unfortunately, I then fell. I want to thank my team, especially after the big crash and the repairs that they had to do on Friday. Now I need to refocus a little bit, taking all the positives out of this weekend and then go to Austin with this new found confidence and be as competitive there".
Pol Espargaro (DNF): "I really can't say that luck helped us today, even if we deserved it after this weekend. We didn't start with the best of terms as I am still not completely healed from my shoulder injury. Then I crashed on Friday and my confidence fell slightly. The good news was that my injury didn't worsen because of this, and the team did a great job helping me to raise my confidence. With regards to today, it's unfortunate that this happened as I could have finished inside the top six on my MotoGP debut. I am still happy with my performance because the results all weekend were competitive Before my problems started, I was just eight seconds behind the leader and catching Dovizioso and Aleix, which was more than I could have hoped for. Now I will rest and prepare for the next race in Austin as I definitely want to be at my 100% there".
Herve Poncharal - Monster Yamaha Tech3 Team Manager: "This weekend wasn't great for us. Bradley qualified well, started positively and was running a good pace near the front, continuing the excellent job that he had been doing all weekend. For sure, the crash is a disappointment but there are still many positives to consider such as, qualifying in front row and running comfortably in the top 5. I felt really bad for Pol who had been trying very hard all weekend, even though the circumstances were not ideal for him with his injury. We think there was a gearbox problem, although we are not sure yet, but without this technical issue, he would have easily got into the top 8. We have been strong all weekend and it's a shame to come out with no points after all the effort we put in. We will now focus on the upcoming race in Austin".
Yamaha Tech3 Team