Crutchlow fights for podium in thrilling season opener in Qatar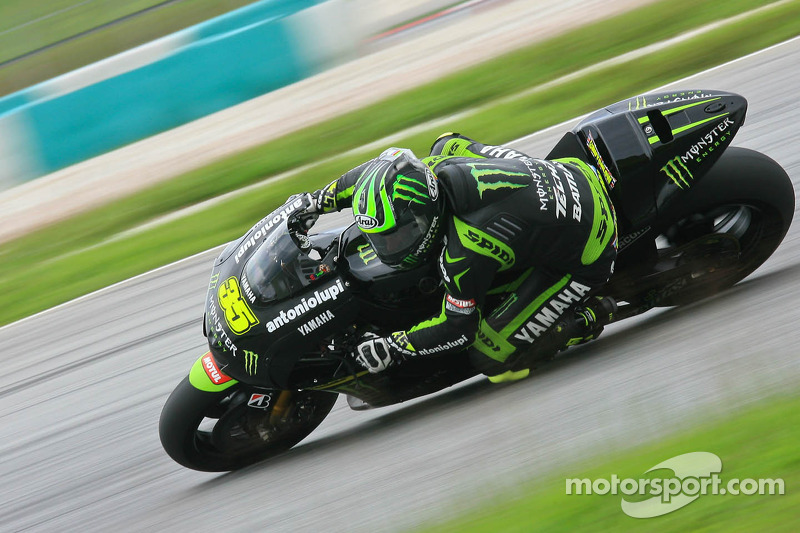 Monster Yamaha Tech 3 Team rider Cal Crutchlow put up a fantastic fight on the Losail International Circuit.
Monster Yamaha Tech 3 Team rider Cal Crutchlow finished tonight's opening MotoGP round in Qatar in fifth position after putting up a fantastic fight for the podium in a nail-biting 22-lap encounter at the Losail International Circuit.
Crutchlow exerted immense pressure on Pedrosa and Marquez but as he calculated where he could try and attack in the final laps, the battle for second became a four-way fight by lap 16 with Valentino Rossi joining the action.
Crutchlow's challenge for his third MotoGP podium came to an unfortunate end though on lap 18 when he ran off at the first corner while trying to defend his position against a hard-charging Rossi.
He lost just over three seconds with the off-track excursion but such was his fast and consistent pace earlier in the race that he was able to easily secure fifth position and start the 2013 World Championship in positive fashion.
Bradley Smith's long-awaited MotoGP debut started brilliantly and a lightning start off the line saw him pass Marquez on the run to the first corner to move into the top six.
As the early action intensified, Smith settled into a comfortable rhythm and he was just about to launch an assault on the top 10 when he crashed out unhurt on lap five at the seventh corner.
Cal Crutchlow 5th – 11 points:
"It's positive to finally kick of the Championship after a long winter, but to be honest after the way I had been performing in practice and qualifying, finishing fifth is a little bit frustrating. My pace was promising and I think I would have deserved to be on the podium, but it was clear to see that I was lacking a bit of speed on the straight. That meant I had to push hard to close the gap in the corners and if we can resolve that small issue I've no doubt I can have the possibility to really challenge the guys at the front. It was a good battle with Dani and Marc but I just get close enough to them to try and make a pass, but credit to Valentino because I was over three seconds clear of him and he caught and passed me. He rode awesome but so did Jorge, who proved yet again that he is going to be the man to beat. It was a great night for Yamaha but also for the Monster Yamaha Tech 3 Team because I showed that I can battle for the podium. The top four are the best riders on the best bikes but I pushed them as hard as I could until the small mistake stopped me. I'm best of the rest and that's pleasing and hopefully I can be up there again in Austin."
Bradley Smith DNF:
"It is frustrating to crash out of my first MotoGP race so early because I need to be gaining all the experience I can. We changed the bike for tonight and the bike was much better on corner entry. Unfortunately I lost the front at Turn 7 and I was down. I'd had a couple of warnings and I will know for the future that I am close to the limit when that happens. There are a lot more positives than negatives to come out of this weekend but I can't deny it would have been great to start the year with a top 10 finish. We move onto the next race in Austin where the goal again will be to build up my experience and learn more about the bike."
Herve Poncharal – Team Manager:
"It has been a positive start to the season and Cal did an incredible job during practice and qualifying and also during the race he definitely showed that he's made another step forward during this winter. Finishing fifth is a little bit disappointing when he was in the battle for the podium for so long but there is a lot of positives we can take from this weekend and it was great to seeing him be the only one to put pressure on the factory guys. He was the best of the rest again and he proved that the Monster Yamaha Tech 3 Team is once again very competitive.
It was a big shame for Bradley because it would have been good to start the Championship inside the top 10. He really could have picked up a lot of information to get more experience to learn from, but these things can happen and the crash shouldn't detract from the fact that he had a very encouraging weekend that bodes well for the future. We are looking forward to seeing his development during the next races but I've no doubt he is going to be regular inside the top 10.
I also want to pay huge compliments to Yamaha for an incredible start to 2013. Jorge was outstanding and showed why is the World Champion and Valentino showed in the last five laps that this year could be fantastic."
Yamaha Racing
Crutchlow fights for podium in thrilling season opener in Qatar