American ride Ben Spies returned to Texas for medical tests after he crashed in practice on Saturday.
Ben Spies, who didn't line up on the starting grid for this 10th round of the MotoGP World Championship at Indianapolis Motor Speedway, will fly back to Dallas tomorrow to undergo further examinations to evaluate the damages suffered as a result of yesterday's fall during the third free practice session.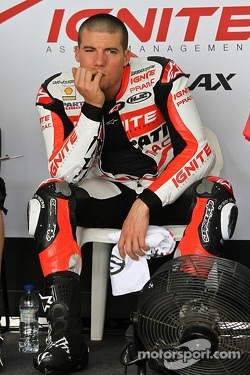 Ben Spies, Pramac Racing Team
Only after a careful evaluation will it be possible to determine the recovery period required for the Texan to return to the track in optimal condition.
Ducati Test Team rider Michele Pirro will temporarily replace the Texan during the Czech Republic Grand Prix that will take place on 25 August.
Ben Spies – Ignite Pramac Racing Team
"I didn't get too much sleep last night, as my shoulder's a little painful since I didn't take much pain medicine yesterday. Now I'll rest up for the next couple days. I fly back to Dallas on Monday, and on Tuesday I'll see with my doctor if I need surgery or not, and also make sure my wrist is okay. I'll try to come back as soon as possible, but I also want to come back at 100%. There's no reason for me to rush back just to fill the grid, but definitely this injury is nothing like the right shoulder; the pain is very bad right now, but the healing process won't be anything near the other one—I know that for sure. We just need to do the right things, follow the doctors' orders again, and rehab. This injury won't even affect me in a few months, but I need to do the right things the right way."
Pramac