Get alerts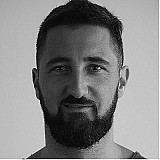 After the Moto3 race at Sepang, Francesco Bagnaia revealed that he will be able to test the Aspar MotoGP bike in the Valencia post-season test, after having won a bet against Gino Borsoi.
The sporting director of the Valencian team challenged the Italian rider after taking his maiden win in the championship at Assen.
If he won another race, he would be allowed to run at Cheste with the the Ducati MotoGP bike Yonny Hernandez and Eugene Laverty have used this year in on the Tuesday after the final event of the season.
"Yeah, I thought about it when I was running alone, several seconds ahead of the guy in second. I was just waiting for the red flag to come out," said Bagnaia, who will make his dream come true in 15 days.
"I challenged Pecco because I thought it was a good way to motivate him," Borsoi explained to Motorsport.com. "I spoke with Jorge [Martinez, team owner] and he said he agreed.
"And on Saturday, seeing that Pecco was running very quickly and that he really had options [to win], I reminded Gigi [Dall'Igna, Ducati's technical director]. I told him that if he won, we'd have to keep the promise, and he had no objections," added the ex-125cc rider.
'Mandatory' jump to Moto2
Bagnaia's progress was clear to see on Sunday, despite the 19-year-old from Turin admitting that crashes for Jorge Navarro and Brad Binder made things easier for him.
"Probably if they hadn't crashed it would have been a three-way battle," he admitted. "In any case, a year ago I would have struggled in a race like this, where I had to run alone for 10 laps."
Following his second win, Bagnaia is a contender for the runner-up spot in the championship behind Binder, along with Enea Bastianini (who is 19 points ahead) and with Navarro (who is two behind).
That would be a good way to say goodbye to Moto3, after having a signed with the VR46 team to move to Moto2 in 2017.
"I'm 1.78m tall and I weigh 63 kilos. If I weren't so tall I would have considered staying on for another year and try to fight for the title, but with this height the move [to Moto2] is mandatory," said Bagnaia.