Circuit de la Sarthe
WALTRIP & KAUFFMAN QUALIFY 15TH IN GTE PRO CLASS AT LE MANS
79th Annual Sports Car Race Begins 8:30 a.m. Saturday on SPEED TV
Michael Waltrip, Robert Kauffman and Rui Aguas on Thursday qualified 15th in the LM GTE Pro category of the 24 Hours of Le Mans in their No. 71 AF Corse Ferrari 458 Italia. It is the only car in the 24 Hours of Le Mans shared by three rookies.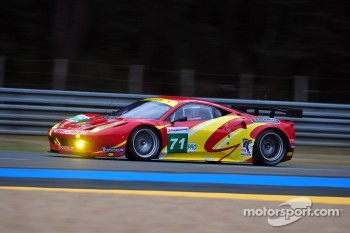 #71 AF Corse
Ferrari
458 Italia: Robert Kauffman, Michael Waltrip, Rui Aguas
LE MANS, FRANCE - Rui Aguas, Michael Waltrip and Rob Kauffman will start 15th in the GTE Pro class and 44th position overall on Saturday in he 79th Annual 24 Heures Du Mans on the Circuit de la Sarthe in France.
Michael Waltrip: "I feel a bit more comfortable in the car, but still have some work to do. I look forward to the race starting and getting more comfortable in the 458. I know that once in the race I'll be able to pick up my lap times. The experience here at Le Mans has been great, the atmosphere is electric and I'm just really thankful to be a part of it all."
Robert Kauffman: "Le Mans at night is awesome. Last night was a bit of a shock to the system as there is no simulator which prepares you for this. It makes you respect the circuit. You have to think about the times before the chicanes were in place when they ran flat out all the way down the Mulsanne. We are going reasonably well. We are trying to get a car that is comfortable for a long period of time. We are on the right track, we'll get there."
Rui Aguas: "We are still improving the car and are working on a better set up. It already feels better than yesterday. Not necessarily quicker but definitely safer. Our goal is to finish the race."
-source: mwr