Ed Fahey, Le Mans Correspondent
Excited Rookies
Le Mans has newcomers every year, but in 2012 a few drivers making their debut at La Sarthe may surprise some. Matt Griffin is the only Irish driver on the grid in a GTE-Am AF Corse Ferrari 458. He described competing at Le Mans as 'a dream' and was already working hard at perfecting his car's setup, planning to run a race pace of 4:01. Given the speed of the Aston Martins and Corvettes, that would mean a tough but rewarding race, and a finish would be a result for him.
Italian GT and touring-car veteran Andrea Bertolini is a surprising Le Mans rookie. Despite winning four FIA GT championship titles and developing Maserati road and race cars, he has never competed at Le Mans before. 2012 sees him make his debut in a Ferrari 458, too. Like Griffin he describes it as a dream and admitted he would happily swop his four GT titles for a single Le Mans win. The Maserati MC12, a car which he helped to develop and which took him to his FIA GT titles, was permitted to race at Le Mans in 2010, but Bertolini felt that the rulebook at the time would have limited it too much. He was happy with both the tyre wear and the consistent speed of his Ferrari and is relishing the challenge ahead.
Corvette Confidence
Corvette C6Rs won both the GTE-Pro and GTE-Am categories at Le Mans in 2011. Both winning teams have returned to defend these titles in 2012: Corvette Racing in Pro and Larbre Competition in Am. Works driver Richard Westbrook felt happy and relaxed and did not expect his car to be as fast, as it later went in Wednesday's qualifying. He also felt the strongest rival for the Corvettes would be the Aston Martins. Their reliability will be a deciding factor: if they can survive the race, it will be a true battle.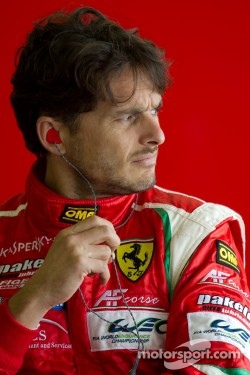 Giancarlo Fisichella
Rebuild time at Ferrari
There's nothing worse than crashing out early from an endurance race, but even worse is not making the start. That's the dilemma currently facing the #51 AF Corse Ferrari of Fisichella/Bruni/Vilander, after Giancarlo Fisichella had an accident at the Porsche curves in Wednesday's free practice, severely damaging the rear of the car. Although it looked mostly cosmetic, the damage to the chassis was quite severe; enough to warrant a complete reshell. Permission has been granted for this under the Force Majeure rule and the car will be out on track for warm-up on Saturday morning.
Scott Atherton on GTs in America
ALMS President Scott Atherton was present at the ACO press conference and was quite happy to discuss the current and future prospects for the ALMS GT class, which is very healthy and produces some of the finest GT racing on the planet. He was proud to say that SRT were hoping to debut their new Viper GTE at the next round of ALMS at Lime Rock Park in July, adding that this was the culmination of a two-year planning stage to return the Viper to works-supported competition.
Regarding the future rules and regulations, he said that all of the current ALMS GT teams were opposed to moving to FIA GT3 regulations, and although he felt that class produced good racing, it would have no place in the ALMS as long as the teams involved weren't interested. New teams and cars are always welcomed to the series and with the BMW M3 coming out of homologation at the end of 2012, a question mark hangs over the German company's entry in 2013.
Atherton maintains BMW USA management are very keen to continue racing and marketing the 'Ultimate Driving Machine' in North America. There is currently no way for the current GT3-spec BMW Z4 to enter, as this car is fitted with the V8 engine from the M3. That combination not currently available as a roadgoing Z4 from the showroom, which is a no-no under GTE rules.