Victor Martins: The karting prodigy being likened to Vandoorne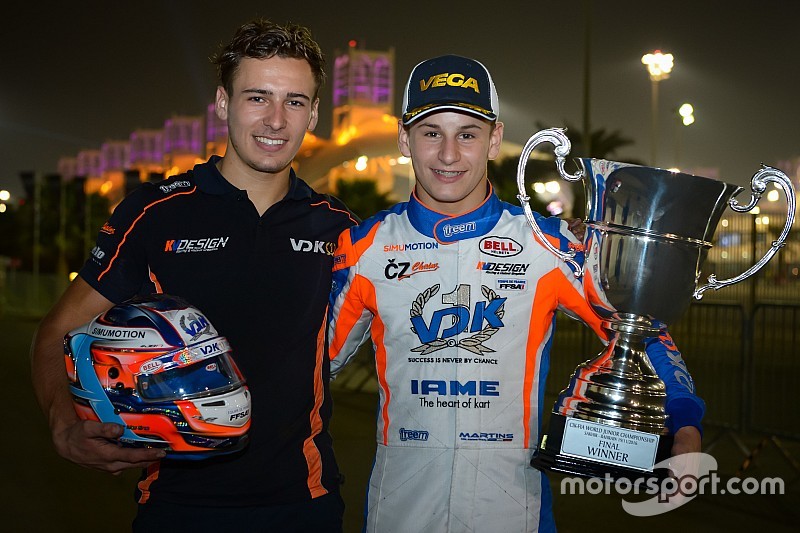 One of the biggest revelations of the junior karting scene in 2016 was world champion Victor Martins, who has been compared to F1-bound Stoffel Vandoorne by a top karting boss. David Gruz profiles the Frenchman.
Each year, the field in OKJ - formerly known as KFJ or KF3 - proves to be a great provider of exciting new talent.
In fact, almost every single-seater star tries himself in the category before moving up the ladder. Some of the best examples of recent times are Max Verstappen, Esteban Ocon, Pierre Gasly, Antonio Giovinazzi, Charles Leclerc and 2016 BRDC Mclaren Autosport award winner Lando Norris.
To that list we will soon be adding Victor Martins, who was arguably more impressive than any of the aforementioned drivers.
As opposed to most areas of motorsport, consistently winning round-by-round is rare in junior karting, mainly due to the high density of talent, the often hectic races and the way the karting weekend format is built up.
Regardless, Martins managed to round out his season with fourth straight victories - he won two European championship rounds, the WSK Final Cup title and, most importantly, the World championship.
Moreover, he did that as a newcomer to the OKJ competition and the international level of karting as a whole.
While standout results eluded him up until he started his hot streak, he never really looked out of depth - qualifying ninth in a field of 62 drivers on his debut, even though that was several heats, a pre-final and a final away from the end result, was already eye-catching.
When asked to describe him, VDK Racing's Eric Verdaasdonk compared him to Vandoorne, who was second in the 2009 CIK-FIA World Championship with the Belgian squad.
"Fitness, concentration, self-questioning," said Verdaasdonk. "With all of this, he really reminds me of Stoffel Vandoorne.
"His fitness is excellent. He has very good concentration and excellent self-questioning. We often debrief races, and he tries to work on all of his flaws.
"We also try to work on his qualities, but on his flaws especially. That's it, he questions himself a lot."
World champion in third year in karting
Victor Martins
Photo by: FIA
What adds to the Martins hype is that he has remarkably little experience for a world champion.
While some of his fellow OKJ competitors have been karting for five, six, or even eight years, Martins had just two years in the French national championships under his belt prior to 2016.
"I started in gymnastics where I became the French champion when I was 10 years old," explained Martins. "Then, a friend of my father made me try a kart and I liked it, so I started racing."
He spent both 2014 and 2015 in the French Cadet championship, finishing sixth and third respectively.
The beginning of Martins' 2016 season was far from ideal - he could not even qualify for the final of the WSK Champions Cup due to a retirement in the pre-final.
He did not finish in the top 10 in the three WSK Super Masters rounds he entered either, but the frontrunning pace was quite visibly there by the time the European Championship started.
"My results [were not as good] because I was a rookie," added Martins. "I learnt a lot during the first half of the season then we changed our way of work and it showed to be quiet good.
"We already had a good pace but then I changed [on a couple of things], a bit on my way of living too - by going to bed earlier, work harder, just being more professional. And I learnt from my mistakes."
Unbeatable since June
Victor Martins
Photo by: FIA
Martins' European Championship campaign kicked off in an unlucky way at Zuera, as an administrative problem put him last in qualifying practice.
He still recovered in an admirable fashion as he made it to the final, in which only 34 of the 73 entered drivers could take part.
"He was ready at Zuera already, but there was a paperwork issue and he qualified last," Verdaasdonk explained. Martins eventually finished 25th because of an incident in the final.
"He qualified for the final directly and before his collision there, he was eighth or ninth.
"Starting from 73rd, he was already very quick. The qualifying heats were six-lap long at Zuera. On average, he started 34th and fought his way up to 11th to 13th. We were quick already."
Mixed conditions caught Martins out in Round 2 at Adria, but there was no stopping him afterwards.
He won at Portimao by a whopping seven seconds, and was even more impressive at Genk, where he topped qualifying, won all his qualifying heats, the pre-final and the final.
While he was 18th in the standings at the halfway point of the season, he ended up third, just three points shy of the European title.
His World Championship performance was just as impressive as he recovered from an early setback in not time and dominated the second half of the final.
"From the moment when he started to win, the others started having a lot more respect for him," said Verdaasdonk.
"At first, respect wasn't really there, he was shaken up a lot at the start of the year. But he was quick already."
Having turned 15 in June, Martins is old enough to step up to Formula 4 next year.
In fact, he already made his car racing debut in the French championship at Le Mans, and Martins was unsurprisingly impressive as he made it to the podium in two of the four races he entered.
Martins has expressed his intentions to move up to car racing full-time in 2017, with Formula 1 being his ultimate goal, but he will start his season in the senior OK category.
"For the moment I start the year in OK, then we are waiting for offers," said Martins. "[I'd like to step up to cars] as I would like to be contacted by a F1 Junior Team.
"I have no particular choice [which one] but why not Renault as it's a French team and I'm French."
At the tender age of 15, Martins already has two of the most important attributes of a successful racing driver - talent and diligence.
A year in French F4 sounds like an obvious choice for next year, and Martins would probably be considered a title contender the second he signed up for the series.
Similarly to Vandoorne, what he needs now is the opportunity to get his single-seater career going - and he will probably only need one to flourish into a major star like the Belgian.
Additional reporting by Benjamin Vinel
Be first to get
breaking news