2016 Mazda Road to Indy season preview
Not to be overshadowed by the Verizon IndyCar Series, all three steps on the Mazda Road To Indy compete at St. Petersburg this weekend. Valentin Khorounzhiy and David Malsher reveal who's hot and who's not.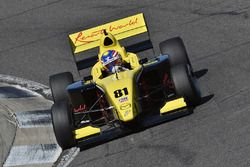 Indy Lights
The last Mazda Road to Indy newcomer to win Indy Lights on his first try was GP3 graduate Josef Newgarden back in 2011. And since then, the regulars of the MRTI ladder have managed to stop the likes of Jack Harvey and Ed Jones from showing up and taking the biggest prize available right away.
But if the Road to Indy establishment is to win again in 2016, they'll have to stop the 1-2 punch of Felix Rosenqvist and Dean Stoneman – arguably the finest European intake in Indy Lights history.
Perennial Formula 3 frontrunner Rosenqvist finally captured the European title in 2015 and has taken more wins in the series than there are races in a given Indy Lights season. And despite his lack of experience in America, he looked very strong in pre-season testing, running the show at Homestead on his first outing with Belardi.
Stoneman, who returned to single-seaters full-time two years ago after recovery from cancer, has already made an impression in GP3 and Formula Renault 3.5. As a late addition to the Lights grid, he wasn't present at most of the test days, but did join the field at Phoenix and Barber, driving for Andretti Autosport – and was immediately on pace. (You can read Stoneman's thoughts on the series in his first column for Motorsport.com tomorrow.)
But Lights is no cakewalk and neither driver is likely to have it easy – especially not with P3 and P4 from last year's championships coming back. Ed Jones, who won three races in a row at the start of his rookie campaign in 2015, returns with Carlin, while RC Enerson, who stepped up from USF2000 last year, is now likely to be Schmidt Peterson Motorsports' main hope of a first title since its 2010-13 streak.
Those who finished P6-P8 are also back, with Kyle Kaiser sticking with Juncos and Juan Piedrahita switching to Pelfrey – albeit the best chance of the trio probably belongs to Felix Serralles, who was victorious at Milwaukee last year and now partners the Carlin team he fought against back in his best seasons in Europe.
And then there's Zach Veach, a driver who seriously challenged for the crown in Lights in 2014, returning after a year's absence to make up a potent Belardi line-up with Rosenqvist.
With the quality of the aforementioned entrants, you wouldn't theoretically expect rookie Pro Mazda graduates to be able to mount a title assault in 2016. But drivers coming straight from that series did win Lights in three of the last four seasons.
As such, it would be way premature to count out Santiago Urrutia, who was excellent in his first season in the US last year, has a strong team behind him in SPM and has looked like no pushover in testing, topping the timesheets at Barber.
His Pro Mazda title rival Neil Alberico should be able to shine on occasion with Carlin, while the remaining Pro Mazda graduate in the field – Dalton Kellett – will probably have a tough time keeping up with his Andretti teammates Stoneman and Shelby Blackstock, the latter returning after a difficult but surely unrepresentative 2015 campaign.
Making up the field are this year's surprise entrant Davey Hamilton Jr, son of former IndyCar stalwart and himself an excellent sprint car driver; Zachary Claman DeMelo, who has had plenty of success in karting but not so much experience in cars; and the cruelly underfunded Scott Hargrove, who ran Spencer Pigot oh-so-close for the Pro Mazda title in 2014 but is yet to afford a full-time move to Lights. Thus far, he has only been confirmed for St. Petersburg, despite his fantastic pace in the off-season.
David Malsher says: I'm expecting this to be a fight between Urrutia (SPM), Rosenqvist (Belardi), Stoneman (Andretti) and one of the Carlin drivers. And that's on the proviso that Andretti Autosport putting its Pro Mazda team on ice has freed up enough technical expertise to boost the team's learning of the Dallara IL15. Which Carlin driver will emerge on top? I don't know. I rate all three – Alberico, Jones and Serralles – quite highly. It's just another of those many interesting stories-within-the-story.
Pro Mazda
While the Indy Lights entry list has increased significantly compared to 2015, the Pro Mazda field has done the exact opposite. A consolation, however, is that there will still be plenty of quality at the sharp end of the grid.
With Andretti bowing out of the series, the title is likely to be decided between three teams – and for reigning champion Team Pelfrey, it's former Andretti driver Weiron Tan who should lead the way.
Tan, after all, was brutally quick if erratic in his first season, winning more races than champion Urrutia but ruling himself out of title contention with a number of incidents. Nonetheless, another second-year driver, Patricio O'Ward, has appeared to be very strong in testing – although he's so far only signed for St. Petersburg and Barber – and USF2000 graduate Aaron Telitz completes a very strong lineup.
The man who finished right ahead of Tan in 2015, Garett Grist, is also back and has team continuity with Juncos on his side. For Grist, it will be his third Mazda campaign and he won both races of last year's season finale – which could be a sign of things to come in 2016.
The remaining frontrunning team Cape Motorsports with Wayne Taylor Racing has hedged its bets on USF2000 alumni, with a roster of Nico Jamin, who won 10 of 16 USF2000 races last year, and Jake Eidson, who took four of the other six.
Finally, joining Grist at Juncos are fellow returnee Will Owen, seventh-best in 2015, as well as newcomers Nicolas Dapero, who was very impressive at Barber, and Jake Parsons, the latter having made a name for himself with two strong campaigns in Formula Masters China.
David Malsher says: Testing is one thing, racing is another. But Barber's results would suggest that Team Pelfrey could finish this championship 1-2-3 should O'Ward go full-time. Tan surprised me by not blazing his way to the top of the timesheets, Telitz surprised me by being so adept in a Pro Mazda car so soon, and O'Ward, who I thought was o'verrated, surprised me by being deeply impressive. I suspect that's where the surprises will end, however. Jamin and Eidson will be strong, but I can't see them toppling Pelfrey.
USF2000
The state of play in USF2000 is a bit tougher to read than the other categories, with many of the drivers taking their first steps on the Mazda Road To Indy.
What does seem certain, though, is that Cape, the team that won four titles in a row, will once again be right at the front of it all, having signed three sophomore drivers.
Of them, Anthony Martin, who finished fourth with the single-car John Cummiskey Racing team in 2015, seems like the obvious favorite, although his new teammates Parker Thompson and Nikita Lastochkin both had convincing rookie campaigns.
John Cummiskey Racing, is no longer a single-car team, having expanded to run both Ayla Agren and Lucas Kohl. Agren – who took 10th last season and captured the 2014 F1600 title – should lead the way but her rookie teammate Kohl is no slouch either, showing very respectable pace in the pre-season testing.
Pabst, the team that ran Cape closest in 2015, has taken the same approach of relying on sophomores – and while Yufeng Luo and Garth Rickards both appear to be solid signings, it's Jordan Lloyd who is, perhaps, the headliner here. Lloyd only did one round of USF2000 in 2015, but was very impressive – and went on to run the show in the Australian F4 series.
Pelfrey took the opposite approach to Cape and Pabst, hiring four rookies, albeit of varying experience. New Zealand Formula Ford and Formula Masters China champion James Munro is likely to be the main hope along with Formula Renault racer TJ Fischer. However, British wonderkid Jordan Cane and Robert Megennis, both of whom ran at the front in F1600 with Pelfrey, have the potential to do just as well.
David Malsher says: Jamin sure made the #2 Cape car look like hot property last year, and I think there's no doubt this team has the whip hand again in 2016. But unless they separate into a defined hierarchy, this trio may rob each other of enough points to allow a rookie like Lloyd (Pabst) or Munro (Pelfrey) to grab the title. These pretty cars also look obsolete these days and will be replaced at season's end, but they produce some fine racing.
Subscribe and access Motorsport.com with your ad-blocker.
From Formula 1 to MotoGP we report straight from the paddock because we love our sport, just like you. In order to keep delivering our expert journalism, our website uses advertising. Still, we want to give you the opportunity to enjoy an ad-free and tracker-free website and to continue using your adblocker.
Become a subscriber.
Disable your adblocker.