Lisa Davidson, IndyCar Correspondent
It's a tough job, but someone has to do it. Will Phillips, IZOD IndyCar Series Vice President of Technology is the man responsible for, among other things, running technical inspection, or "tech" as it is more commonly known. I have often wondered just what those people are looking for and how tech operates, so this reporter spoke to Phillips during a break in the action at the Sonoma Valley for the GoPro Indy Grand Prix of Sonoma to shed some light on the subject.
While walking through the paddock at an IndyCar event, chances are, you will see him or his team. Phillips is a well- spoken British man who has an obvious love of racing and has held the Technology post since 2011. He came to the ICS from the American Le Mans series, something he has in common with President of Competition Beaux Barfield.
The worst part of our day is when a car fails its inspection and penalties must be assessed.
When asked what is most important about technical inspection, Phillips says its safety. "We check for all the safety items that are supposed to be there, such as the fire bottles", and are operable, "such as the safety lights working. When the track goes yellow, drivers should also see yellow lights going on in the car". While all cars in competition have safety features built into them, the tech inspection team is responsible for making sure that they are all there and working.
Something I've often wondered about is how often must cars go through tech? The answer is that no car can go on track at any race until it has been inspected. So, this must all take place before the first practice at each race. After that, it's more subjective on the part of each team.
According to Phillips, "the more competitive teams go through the inspection process far more often than the other teams because they cannot afford for a car to fail any subsequent inspections [that weekend]". It appears that the real answer to the question is that cars go through tech as often as the teams think they need to, and the higher finishing cars generally go through the most often.
Who exactly does the inspection work? It's not financially feasible for the series to have a large full time crew, and yet there is considerable investment in every experienced crew member so IndyCar has 5 full time inspectors who travel with the series and about 8 part timers who each cover about 5 race events per season. Thus, each person you see measuring and weighing cars is an experienced professional charged with insuring that each car is in compliance with the IndyCar rule book and has all the safety features in place.
Will Power, Verizon Team Penske Chevrolet
As to how inspection happens, it is a fascinating and amazing low tech process of weighing and measuring that takes place. Each car has a precise minimum weight excluding the driver and ballast. Larger drivers such as Graham Rahal, Justin Wilson, and Ryan Hunter-Reay need little or no ballast in their cars, while the remainder of each field of starting drivers each needs a precise amount of ballast so that all cars meet a minimum weight standard.
When entering tech, each car is place up on a ramp where a variety of measurement instruments are used to test the car to ensure that each car "measures up". Implements are used to measure size, such as the something resembling large salad tongs used to measure the wings. Other implements measure the nose of the car, and so on. At the end of the inspection, the inspection team is charged with making certain that every car is in compliance with the rule book.
Enforcement is the ultimate job of the inspection team, and as Phillips told me, "the worst part of our day is when a car fails its inspection and penalties must be assessed". Indeed, racers can often be volatile and in a penalty situation, are frequently more so.
While racing is a fraternity of sorts, friendships can be fractured when a competitor feels they have not been dealt with fairly. That is why Phillips adopts a philosophical viewpoint, "we're not here to make friends, and must follow the rules".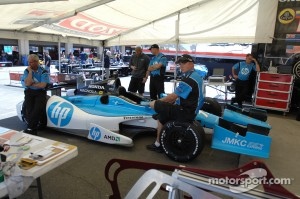 Simon Pagenaud, Schmidt Hamilton HP Motorsports Honda
Subjectivity does play a part in penalty assessment, though, in that if a team makes an innocent mistake the team is dealt with less harshly than a competitor looking to push the envelope. Also new to the series in 2012 is that all penalties assessed by Phillips' team are reported to the media. It is now a matter of "totally transparent penalties".
What about the future? This year has been an expensive one for both the series and especially the teams with the new car. There has been a good bit of testing this year and to help with making running a team less costly, Phillips thinks there will be considerably less testing allowed in 2013. As he explains, it can cost about $50,000 for one day of testing, so if testing dates are cut by 10, teams can save nearly half a million dollars each year. Half a million dollars can buy a great deal of spare parts, which many team owners have found to be far too expensive in 2012.
So, the next time you walk through the paddock; why not take another look at the racing professionals who make sure that all the cars racing have been suitably prepared?